In questa pagina che andremo ad alimentare gratuitamente con le vostre segnalazioni, trovate una lista dei migliori b&b del centro storico di Napoli che verrà aggiornata periodicamente.
Attualmente abbiamo censito circa mille strutture ricettive nel centro storico di Napoli.
In questo elenco di bed and breakfast economici a Napoli centro troverete offerte per soggiornare nel centro antico di Napoli e mi raccomando dite che vi manda Napoli misteriosa.
Troverete i b&b a Napoli più comodi vicino ai mezzi pubblici alla metropolitana con i servizi come il Wi-Fi il condizionatore in camera come di solito si trova negli alberghi.
Alcuni sono dotati anche di cucina angolo cottura parcheggio ed area relax e sono presenti anche in zone caratteristiche della città di Napoli come nei bassi.
Questo nella foto si trova ad esempio a Via Cedronio ai Quartieri Spagnoli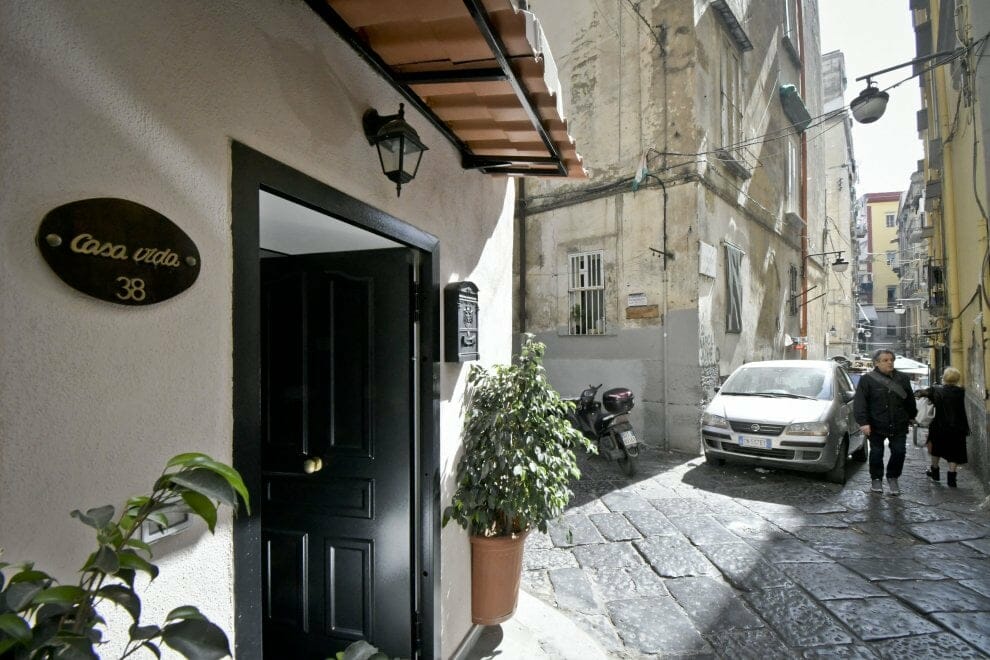 Come cercare un bed and breakfast?
Per usarlo è molto semplice, ad esempio cerchi un bed and breakfast a Via Duomo? Basta che scrivi Via Duomo nella casella cerca e ti usciranno tutti i bed and breakfast e gli affittacamere di Via Duomo.
Se cerchi una zona specifica puoi inserire anche un CAP.
Abbiamo inserito anche gli appartamenti e le case vacanza. Segnalateci eventuali strutture che abbiamo dimenticato oppure che non sono più operative a Napoli centro.
L'unica cosa che ti chiediamo in cambio è solo un mi piace alla nostra pagina Facebook clicca qui, metti mi piace o segui la pagina Facebook Napoli misteriosa e poi mandaci un messaggio.
Aggiungeremo in tempi brevi il tuo bed and breakfast al nostro archivio.
---
bed and breakfast di napoli
| Tipologia struttura | Nome | Indirizzo | Cap | |
| --- | --- | --- | --- | --- |
| Affittacamere | BEDBOUTIQUENAPOLICOLORS | VIA TRIBUNALI 276 | | |
| Bed and Breakfast | 61 | Piazza Cavour 61 | | |
| Casa per ferie | S. LUCIA 50 (EX FREEDOM) | via S. Lucia 50 | 80132 | |
| Casa o Appartamento per Vacanze | CASA SOFIA | Via Portacarrese Montecalvario 87 | | |
| Casa per ferie | MINILOFT MUNICIPIO | Calata San Marco 4 | | |
| Affittacamere | BRUNO'S di DE FILIPPO VINCENZO | Via Roma 124 | 80138 | |
| Bed and Breakfast | SFUMATURE PARTENOPEE | via Donnalbina 11 | | |
| Affittacamere | MAISON DE FLEURS | via MADDALONI 6 | | |
| Bed and Breakfast | BABA' E BEBE' (ALLAMARINA) | RIVIERA DI CHIAIA 207 | | |
| Bed and Breakfast | LA CASA DELL'ARCHITETTO | calata Trinità Maggiore 4 | 80134 | |
| Affittacamere | LOGGIA SUITE | Via LOGGIA DEI PISANI 25 | | |
| Bed and Breakfast | B&B NAPOLI CAMPAGNARI | Vico Campagnari 21 | | |
| Affittacamere | CARACCIOLO 10 | Via Caracciolo 10 | 80122 | |
| Bed and Breakfast | Tesoro Napoletano | Via Francesco Capecelatro 2 | 80136 | |
| Affittacamere | H ROOMS | Via Caracciolo 11 | 80122 | |
| Bed and Breakfast | VICERE' DI TOLEDO | Via Toledo 323 | 80134 | |
| Bed and Breakfast | BED&BREAKFAST CASA PATRIZIA | LARGO S.Maria La Nova 19 | 80100 | |
| Casa o Appartamento per Vacanze | CASA VACANZA MARILU' | Via S. ATTANASIO 28 | | |
| Bed and Breakfast | B&B COSMONEAPOLITAN | Via NARDONES 111 | | |
| Affittacamere | CONCRETE APARTMENT | Via San Gregorio Armeno 41 | | |
| Casa o Appartamento per Vacanze | OBLO' | SALITA S. ANTONIO A TARSIA 35 | 80135 | |
| Bed and Breakfast | PETRUCCI B&B | Via VERGINI 56 | | |
| Affittacamere | BELLE ARTI RESORT | Via Costantinopoli 27 | 80138 | |
| Bed and Breakfast | RESIDENZA LE ROSE | discesa Gaiola 72 | 80123 | |
| Bed and Breakfast | SUI TETTI DI NAPOLI | Vico Figurelle a Montecalvario 6 | 80134 | |
| Casa o Appartamento per Vacanze | HOME SUITE HOME PIANOUNO | Viale ANTONIO GRAMSCI 11 | | |
| Casa o Appartamento per Vacanze | CASA DEL GIRASOLE | Vico Teatro Nuovo 20 | | |
| Casa o Appartamento per Vacanze | BAIA DI NAPOLI | Via CARDINALE BURALI D'AREZZO 9 | | |
| Affittacamere | REST A NAPOLI | Via Concezione a Montecalvario 7 | | |
| Casa per ferie | CASA TOLEDO | Via Diodato Lioy | | |
| Bed and Breakfast | B&B AUGUSTEO | Via Speranzella 115 | 80132 | |
| Affittacamere | VISTAVIVA | Via Alessandro Poerio 32 | 80139 | |
| Bed and Breakfast | Bed in Naples | Via Michetti 11 | | |
| Bed and Breakfast | B&B DIPINTODIBLÙ | Via Alessandro Manzoni 131 | 80123 | |
| Affittacamere | GENTILE RELAIS | Via Bernini 45 | | |
| Affittacamere | LOCAZIONE PURA BREVE | Via Fonseca 16 | 80135 | |
| Affittacamere | LA SMORFIA | Via SANTA MARIA DI COSTANTINOPOLI 30 | 80138 | |
| Casa o Appartamento per Vacanze | FERRARA 20 APARTMENTS | Via FERRARA 20 | | |
| Bed and Breakfast | ROBBY' S HOUSE | Via San Nicola dei Caserti 5 | 80139 | |
| Bed and Breakfast | ANNUNZIATA DREAM | Via ANNUNZIATA 30 | | |
| Affittacamere | DANTE MAISON DE CHARME | Via Tarsia 64 | | |
| Casa o Appartamento per Vacanze | DOMUS NAPOLI | Via GIAN LORENZO BERNINI 45 | | |
| Bed and Breakfast | CASA LIEN | Corso Novara 13 | 80100 | |
| Casa o Appartamento per Vacanze | HELLO NAPOLI HOLIDAY HOUSE | Via Lieti a Capodimonte | | |
| Bed and Breakfast | RESTA CU MME BED & BREAKFAST | Via Pietro Colletta 35 | 80100 | |
| Casa o Appartamento per Vacanze | VEDINAPOLI | Via TOLEDO 156 | | |
| Casa o Appartamento per Vacanze | VACUNA PLEASANT ROOMS | Via Domenico Schiappoli 2 | | |
| Bed and Breakfast | VISCONTI | Via Pasquale Scura 77 | 80100 | |
| Affittacamere | ANNA S FAMILY TERRACE | Piazza garibaldi 136 | 80142 | |
| Bed and Breakfast | B&B CAPODIMONTE | Vico Pirozzoli 16 | 80136 | |
| Casa o Appartamento per Vacanze | METRO GUEST HOUSE | Via Cavalleggeri D'aosta 4 | | |
| Bed and Breakfast | MONTEDIDIOUNOE | Via Monte di Dio 1E | | |
| Affittacamere | RELAIS DELLA PORTA SUB28 | Via TOLEDO 368 | | |
| Bed and Breakfast | Dimora Caracciolo | Via F:Caracciolo 11 | 80122 | |
| Bed and Breakfast | B&B CITY SOUL SPACCANAPOLI | Via Grande Archivio 32 | | |
| Casa o Appartamento per Vacanze | CASA MONROE | Via San Giovanni in Porta 34 | | |
| Bed and Breakfast | LA LOCANDA DELL'ARTE MUSEO | Via S. ANIELLO A CAPONAPOLI 8 | | |
| Affittacamere | NAPOLICLASS B&B | Via Santa Brigida 79 | | |
| Affittacamere | RESIDENZA LE ROSE | discesa Gaiola 73 | | |
| Affittacamere | LE CICALE SAN CARLO | Via Nardones 118 | | |
| Bed and Breakfast | IL SOGNO DI PARTENOPE | Via NUOVA POGGIOREALE 60A | | |
| Casa o Appartamento per Vacanze | A CASA DI ZIA | Corso UMBERTO I 106 | | |
| Bed and Breakfast | AI MUSEI | Corso Amedeo di Savoia 178 | 80100 | |
| Bed and Breakfast | VILLA BRUNA | Via s. Teresa degli Scalzi 154 | 80135 | |
| Bed and Breakfast | B&B AL CENTRO | Via Pasquale Scura 66 | 80100 | |
| Casa o Appartamento per Vacanze | LILLOLLA' | Vico BERIO 4 | | |
| Ostello per la gioventu | MANCINI | Via P.S. Mancini 33 | | |
| Bed and Breakfast | Posillipo b&b | Via Posillipo 394 | 80123 | |
| Bed and Breakfast | SUNDAY MORNING | Via V. Mosca 4 | 80122 | |
| Bed and Breakfast | BED & BREAKFAST STAZIONE | Piazza Garibaldi 80 | 80100 | |
| Casa o Appartamento per Vacanze | TORRE MEDITERRANEO | Via POSILLIPO 222 | | |
| Bed and Breakfast | MB95 | Via Mezzocannone 95 | 80134 | |
| Affittacamere | NAPOLI CHIAIA 32 | Via Chiaia 32 | 80121 | |
| Affittacamere | IL VENTRE DI NAPOLI | Via S. Maria di Costantinopoli 130 | 80138 | |
| Bed and Breakfast | LE MURA ANTICHE | Via NOLANA 28 | | |
| Bed and Breakfast | Napoli Bonita | Via Armando Diaz 8 | 80134 | |
| Affittacamere | PFP CASA VACANZE | Via Ilioneo 74 | 80124 | |
| Bed and Breakfast | '700 NAPOLETANO | Piazzetta Ascensione 28 | 80100 | |
| Bed and Breakfast | GRAZIANI RELAIS | Piazza Dante 58 | 80135 | |
| Affittacamere | ROYAL ROOM STATION | Piazza GARIBLADI 60 | | |
| Bed and Breakfast | L'Appartamento Napoletano | Via Grande Orefici 14 | 80133 | |
| Affittacamere | CARTEN NAPOLI Calata San Marco 24 | | | |
| Casa o Appartamento per Vacanze | IL PIED A TERRE | Via FRANCESCO SAVERIO CORRERA | | |
| Bed and Breakfast | A CHIAIA | Via F. Palasciano 17 | | |
| Bed and Breakfast | PORTO 53 | Via MEZZOCANNONE 53 | | |
| Casa o Appartamento per Vacanze | Peach Service Srl | Via E. Alvino 157 | 80129 | |
| Bed and Breakfast | CASAMONE | Via Filangieri 11 | 80121 | |
| Bed and Breakfast | B&B NEAPOLIS BELLINI | Piazza Bellini 75 | 80138 | |
| Bed and Breakfast | BUONANOTTE BUONGIORNO | Corso Vittorio Emaunele 544 | | |
| Casa o Appartamento per Vacanze | CASA CIU CIU NAPOLI | Piazza CAVOUR 19 | 80132 | |
| Bed and Breakfast | B&B Floridiana | Via Belisario Corenzio 33 | 80127 | |
| Affittacamere | NAPOLI GOLD | Corso Umberto 217 | | |
| Bed and Breakfast | B&B A CASA DI GRAZIA | Via Salvator Rosa 296 | 80100 | |
| Bed and Breakfast | DUOMO 89 | Via Duomo 89 | 80138 | |
| Bed and Breakfast | B&B Sanacore | Via Ferri Vecchi 11 | | |
| Bed and Breakfast | SPERANZELLA | Vico Giardinetto 7 | | |
| Bed and Breakfast | VILLINO MANINA | Vicoletto cimarosa 5 | 80127 | |
| Bed and Breakfast | NAPOLIBED | Piazzetta Sedil Capuano 247 | | |
| Affittacamere | NAPOLICLASS LUXURY | Via Santa Brigida 79 | | |
| Affittacamere | DOMUS MUNICIPIO | Via San Giacomo 32 | | |
| Affittacamere | HERMES ROOMS FOR TOURISTS | Via CARBONARA 21 | | |
| Casa o Appartamento per Vacanze | FRANCESCHIELLO A TOLEDO | Vico LUNGO S. MATTEO 13 | | |
| Bed and Breakfast | B&B TRIESTE E TRENTO | Via Nardones 17 | 80132 | |
| Bed and Breakfast | NIKAY B&B | Via Tarsia 64 | 80100 | |
| Bed and Breakfast | C@FE | Piazza Eritrea 3 | 80100 | |
| Bed and Breakfast | B&B STELLA MARINA | Via Stella 124 | 80137 | |
| Affittacamere | SIGNORISINASCE | Vico Carceri San Felice 3 | | |
| Bed and Breakfast | WHY NOT | Via Mario Piscicelli 13 | | |
| Bed and Breakfast | VIC STREET | Vicoletto Pietro Colletta 9 | | |
| Bed and Breakfast | B&B GIORDANO | Via Bernardo Cavallino 89 | 80131 | |
| Bed and Breakfast | IL GRATACIELO | Via DEI FIORENTINI 21 | | |
| Bed and Breakfast | IL RAMO D'ORO | Via ADOLFO OMODEO 124 | | |
| Bed and Breakfast | BED & BREAKFAST PALUMBO VINCENZO | Via S.Gregorio Armeno 41 | 80138 | |
| Affittacamere | BE ITALIAN FLAT DUOMO | Via Duomo 319 | | |
| Casa o Appartamento per Vacanze | ANTHEA HOME HOLIDAYS | Via PIETRO GIANNONE 33 | | |
| Bed and Breakfast | LA CASA SUI TETTI | Via Giovanni Paladino 55 | 80100 | |
| Bed and Breakfast | CLAUDIA AVERSANO | Via Mergellina 216 | 80100 | |
| Casa o Appartamento per Vacanze | MY B | Via Mario Morgantini 3 | | |
| Casa o Appartamento per Vacanze | Fiorentini Residence Srl | Via dei fiorentini sc.A 21 | | |
| Bed and Breakfast | BELLA 'MBRIANA | Vico Spezzano 7 | 80100 | |
| Casa o Appartamento per Vacanze | DUOMO 305 | Via Duomo 305 | | |
| Bed and Breakfast | DILETTO A NAPOLI | Vico Sedil Capuano 16 | 80138 | |
| Casa o Appartamento per Vacanze | CASA DONNA ANNA | Via MAIORANI 17 | | |
| Casa per ferie | CASADEDA | Via Firenze 24 | | |
| Affittacamere | RESIDENCE CINQUE STELLE | Corso Umberto I 381 | 80138 | |
| Affittacamere | SUITE DEI CATALANI | Via DEPRETIS 80-82 | 80133 | |
| Bed and Breakfast | FIRENZE 32 | Via Firenze 32 | | |
| Bed and Breakfast | MARANO ROSARIO | Via Domenico Cirillo 13 | 80139 | |
| Bed and Breakfast | B&B SOSTA FLEGREA | Via GIOVANNI CHIARINI 14 | | |
| Bed and Breakfast | NAPUL'E' | Via Riviera di Chiaia 92 | 80122 | |
| Casa o Appartamento per Vacanze | CINQUE SANTI COMFORT | Vico CINQUESANTI 23 | | |
| Bed and Breakfast | LA MIA CASA | Via Antonio Luigi Sementini 8 | | |
| Bed and Breakfast | B&B LA DEA NIKE | Via Arte della Lana 11 | 80100 | |
| Bed and Breakfast | SOLIMENA | Via Solimena 113 | 80129 | |
| Bed and Breakfast | B&B SKYHOUSE CHIAIA | Via Chiaia 216 | 80100 | |
| Bed and Breakfast | RELAIS BORBONICO | Vico Rosario di Palazzo 25 | | |
| Ostello per la gioventu | LA CONTRORA | Piazzetta Trinità alla Cesarea 231 | | |
| Ostello per la gioventu | PIZZA HOSTEL | Via San Paolo ai Tribunali 44 | | |
| Affittacamere | BOVIO MODERN SUITE | Corso Umberto I 22 | 80138 | |
| Bed and Breakfast | MONTESANTO B&B | Vico 1 MONTESANTO 22 | | |
| Bed and Breakfast | B and b Bausan | Via S. Teresa a Chiaia 39 | | |
| Bed and Breakfast | B&B NICOLAIS ASSUNTA | Vico Purgatorio ad Arco 7 | 80138 | |
| Bed and Breakfast | B&B PARTENOPEO | Corso Garibaldi 106 | 80139 | |
| Casa o Appartamento per Vacanze | PEP Casa vacanze | Via Ilioneo 74 | 80124 | |
| Casa o Appartamento per Vacanze | LAZZARELLA | Vico S. Guido 16 | | |
| Bed and Breakfast | ARTE E MUSEI | Via Salvator Rosa 345 | | |
| Bed and Breakfast | FERMATA SUD | Vico S. EFRAMO VECCHIO 16 | | |
| Casa o Appartamento per Vacanze | HOME SWEET HOME CATHEDRAL | Vico II Carmine ai | | |
| Bed and Breakfast | B&B SANTA CLARA | Via Orazio 42 | 80100 | |
| Casa o Appartamento per Vacanze | MARY J APPARTAMENT | Via STRADA VICINALE CUPA COSTA | | |
| Casa o Appartamento per Vacanze | PELINO'S HOUSE | Via MAIO DI PORTO 9 | | |
| Bed and Breakfast | B&B AMANA | Via NARDONES 48 | | |
| Casa o Appartamento per Vacanze | LA RESIDENZA | Via Diocleziano 169 | | |
| Bed and Breakfast | CARBONARA NAPOLI | Vico Sant'Elmo 3 | | |
| Bed and Breakfast | MEDUSA B & B | Via Chiaia 164 | 80126 | |
| Casa o Appartamento per Vacanze | IL - TERNO ALL'8 | Vico LUNGO GELSO 115 | | |
| Affittacamere | PORTALBA RELAIS | Via Portalba 33 | 80134 | |
| Bed and Breakfast | NAPOLI LEGGENDARIA | Via S.Giovanni de la Salle 8 | 80136 | |
| Bed and Breakfast | ALCHIMIA NAPOLETANA CALATA SS. COSMA E DAMIANO 12 | | | |
| Bed and Breakfast | Anna's family | Via Silvio Spaventa 18 | 80142 | |
| Bed and Breakfast | LE NOTTI BIANCHE Gradoni di Chiaia 10 | | | |
| Bed and Breakfast | MONTEDIDIO UNOÈ BED&BREAKFAST | Via Monte di Dio 1/E | 80132 | |
| Bed and Breakfast | B/B AMINEI | Via Nicolardi (p.co Avolio) 42/A | 80131 | |
| Affittacamere | THE DUOMO HOUSE | Via DUOMO 133 | | |
| Bed and Breakfast | B&B IL CENTRO | Via Flavio Gioia 67 | | |
| Bed and Breakfast | NILO 32 BED & BREAKFAST | Via Francesco De Sanctis 3 | | |
| Affittacamere | BE ITALIAN FLAT DUOMO 10 | Piazza Nicola Amore 10 | | |
| Ostello per la gioventu | OSTELLO OF THE SUN | Via Melisurgo 15 | | |
| Bed and Breakfast | SESTO CONTINENTE | Via Diodato lioy 10 | 80134 | |
| Casa o Appartamento per Vacanze | CASA LUPERANO | Via Pessina 15 | | |
| Bed and Breakfast | NAPOLIFAMILY | Vico Carceri San Felice 13 | | |
| Affittacamere | BARBARELLA HOME | Via Santa Maria in Portico 3 | | |
| Bed and Breakfast | B&B BELLA VITA | Via San Mandato 46c | | |
| Affittacamere | LA DIMORA DI NETTUNO | Via Piedrigrotta 57 | | |
| Casa o Appartamento per Vacanze | INN PRIMO PIANO | Via Vincenzo Bellini 67 | | |
| Bed and Breakfast | B&B LA DIMORA | Via Gabriele Jannelli 520 | 80131 | |
| Bed and Breakfast | THE FORIA HOUSE B&B | Via Foria 153 | 80100 | |
| Bed and Breakfast | CASA GIRO' | Vico 2 STRETTOLA OREFICI 3 | | |
| Bed and Breakfast | A DUE PASSI DAL MUSEO | Vico CIMITILE 24 | | |
| Affittacamere | MAISON CAROLINA | Via GIUSEPPE RICCIARDI 7 | | |
| Bed and Breakfast | IL SOLE DI NAPOLI | Via Piave 32 | 80126 | |
| Residenze Turistico-Alberghiere R.T.A. IL CASTAGNO | Viale Privato rai ai Camaldoli 3 | 80131 www.residenceilcastagno.it/ | | |
| Casa o Appartamento per Vacanze | A CASA DI ELE | Via FRANCESCO PAOLO TOSTI | | |
| Casa o Appartamento per Vacanze | PLATEIA APARTMENT | Vico GIGANTI 41 | | |
| Casa o Appartamento per Vacanze | GALLUPPI DESIGN APARTMENT WITH TERRACE | Vico PASQUALE GALLUPPI | | |
| Bed and Breakfast | ATTICO OLTREMARE | Via CAIO DUILIO 12 | | |
| Bed and Breakfast | PIKOLLO E KALULLA | Via Giulio Cesare 162 | 80125 | |
| Bed and Breakfast | BELL&BUONO BED | Via Costantinopoli 94 | 80135 | |
| Bed and Breakfast | LUNGO MARE | Via Mergellina 43 | 80122 | |
| Bed and Breakfast | LA CASA DI MARELLA SUITE IN NAPLES | Via Gennaro Serra | | |
| Bed and Breakfast | B&B Travellers | Via Genova 107 | 80143 | |
| Bed and Breakfast | CASE INCANTATE | Via Lepanto 137 | 80125 | |
| Bed and Breakfast | BED AND BREAHFAST LA CASA DI MAMMA | Via Salvator Rosa 284 | 80100 | |
| Affittacamere | BOUTIQUE NAPOLI | Piazza GARIBALDI 60 | | |
| Casa o Appartamento per Vacanze | MAIORANI HOME | Vico Maiorani 43 | 80138 | |
| Casa o Appartamento per Vacanze | L'ARCATA A MONTESANTO | Via Montesanto 52 | | |
| Affittacamere | I MAESTRI | Via TRIBUNALI 257 | | |
| Bed and Breakfast | SANT'ALFONSO BED & BREAKFAST | Via delle Zite 33 | | |
| Affittacamere | Enea | Via Bologna 14 | | |
| Casa o Appartamento per Vacanze | ROTOLI DI RONZA | Via CHIAIA 104 | | |
| Bed and Breakfast | B/B P.ZZA DANTE | Vico Mastellone 16 | | |
| Bed and Breakfast | BIANCHI MEDITERRANEI E CLA | Corso Umberto I° 237 | 80100 | |
| Casa o Appartamento per Vacanze | LATILLA APARTMENT | Vico LATILLA 18 | | |
| Bed and Breakfast | O SOLE MIO- POSILLIPO | Via Giovanni Capurro 21 | 80100 | |
| Bed and Breakfast | B&B DA MIMI' | Corso ARNALDO LUCCI 165 | | |
| Casa per ferie | ROSETTA LA CASA NEL CUORE DI NAPOLI | Vico Solitario 56 | | |
| Casa o Appartamento per Vacanze | YOURELAIS PERGOLESI SUITE 2 | Via GIAMBATTISTA PERGOLESI 1 | | |
| Bed and Breakfast | CEBOLLITAS | Via Gino Doria 78 | 80128 | |
| Affittacamere | IL MIRACOLO DI SAN GENNARO | Piazza CAVOUR 118 | | |
| Bed and Breakfast | MUSEUM LUXURY SUITES | Via S. TERESA DEGLI SCALZI 24 | | |
| Bed and Breakfast | TWO SISTER SUITES | Via Toledo 156 | 80100 | |
| Affittacamere | MOKA SUITE SPACCANAPOLI | Via DOMENICO CAPITELLI 3 | 80134 | |
| Bed and Breakfast | La casa di Bruno | Vico I | Piazza larga 7 | |
| Casa o Appartamento per Vacanze | TEATRO NUOVO APPARTMENT | Vico Teatro Nuovo 90 | | |
| Casa o Appartamento per Vacanze | INST@NT | Via DEL CHIOSTRO 9 | | |
| Bed and Breakfast | B&B TOLEDO STATION | Via Toledo 320 | 80133 | |
| Casa o Appartamento per Vacanze | HOME SWEET HOME CENTRO STORICO | Vico Rocci 2 | | |
| Casa o Appartamento per Vacanze | ALL'INCANTO DI FEDE | Via PASQUALE SCURA 26 | | |
| Casa o Appartamento per Vacanze | BUONDÌ | Via SIBILLA 1/C | 80100 | |
| Bed and Breakfast | PRIMOPIANO | Via Foria 118 | 80100 | |
| Bed and Breakfast | MAISON DU LA RUA Rua Catalana 113 | 80133 | | |
| Casa o Appartamento per Vacanze | CASA VACANZE CASTEL CAPUANO | Via Concezio Muzii 63 | | |
| Casa o Appartamento per Vacanze | IL FORZIERE | Vico SAN SEVERINO 19 | | |
| Bed and Breakfast | P.TTA NILO | Piazzetta Nilo 7 | 80134 | |
| Bed and Breakfast | B/B RIVALTA | Via Posillipo 56 | 80123 | |
| Bed and Breakfast | TALISMANO LUXURY SUITE | Via Stendhal 23 | 80100 | |
| Bed and Breakfast | NACU90 B&B | Corso UMBERTO I 90 | | |
| Affittacamere | POMPEI GUEST HOUSE | Via Enrico Alvino 157 | | |
| Bed and Breakfast | La Marchesa di Pizzofalcone | Via Egiziaca a Pizzofalcone 63 | 80132 | |
| Casa o Appartamento per Vacanze | LUCA QUARANTA APARTMENT | Via Bernardo 40 11 B | | |
| Bed and Breakfast | LE FUNICOLARI | Via Kerbaker 55 | 80129 | |
| Affittacamere | ROYAL HOUSE | Corso UMBERTO 311 | 80138 | |
| Bed and Breakfast | Il Giglio Rosso | Via Gennaro Serra 24 81032 | | |
| Bed and Breakfast | THULE B&B | Via FORMALE 42 | | |
| Bed and Breakfast | B&B LAZZARI FELICI | Via Francesco Saverio Correra 29 | 80100 | |
| Bed and Breakfast | B&B LE RONDINI | Via F. Petrarca | Parco Le Rondini | |
| Bed and Breakfast | DORMIDAME' MUSEO | Via Salvator Rosa 46 | 80135 | |
| Casa o Appartamento per Vacanze | ALE & TIZY HOUSE DI ALESSANDRO PALMA | Vico | | |
| Affittacamere | GB VESUVIUS NAPOLI | Corso MERIDIONALE 7 | | |
| Bed and Breakfast | La terrazza sui quartieri | Vico Lungo Montecalvario 4 | 80132 | |
| Bed and Breakfast | WANDA | Via Luca Giordano 106 | | |
| Bed and Breakfast | PLEBISCITO HOME | Via Chiaia 75 | 80121 | |
| Affittacamere | BONAPACE ACCOMODATION | Via S. Cosmo Fuori P. Nolana 14 | 80142 | |
| Bed and Breakfast | BED & BREAKFAST | Piazza Garibaldi 80 | 80100 | |
| Bed and Breakfast | La Dimora di Parthenopa | Via S.Gregorio Armeno 14 | 80138 | |
| Casa o Appartamento per Vacanze | LA CASA DEL PICCOLO PRINCIPE | Via Ponti Rossi | | |
| Bed and Breakfast | B&B CAMERE NAPOLETANE | Via Atri 35 | 80138 | |
| Affittacamere | THE GREY | Corso UMBERTO I 90 | | |
| Casa o Appartamento per Vacanze | LA PREZIOSA APARTMENT | Via ALCIDE DE GASPERI 5 | | |
| Casa o Appartamento per Vacanze | OLTREMARE APARTMENT | Viale Ottavio Cesare Augusto 119 | | |
| Affittacamere | MASCALZONE LATINO | Via DONNALBINA 20 | 80134 | |
| Affittacamere | SUITE DEI CATALANI 2 | Via DEPRETIS 78 | 80133 | |
| Affittacamere | TOLEDO LOFT | Via Toledo 156 | 80132 | |
| Casa o Appartamento per Vacanze | GERACI APARTMENT | Piazza Cavour 152 | | |
| Bed and Breakfast | B&B BERNINI 20 | Via Bernini 20 | | |
| Bed and Breakfast | ZIABI | Via Ponti Rossi 113/F | 80141 | |
| Bed and Breakfast | CASA ROGER | Via Bartolomeo Facio 3 | 80136 | |
| Bed and Breakfast | IL GOLFO | Piazza Garibaldi 3 | 80142 | |
| Affittacamere | AREA ANGIOINA SUITES | LARGO S.MARIA LA NOVA 21 | | |
| Bed and Breakfast | MARINA MERGELLINA | Viale villa S. Maria 14 | 80122 | |
| Bed and Breakfast | CASA AVALLONE | Via F. Girardi 70 | 80134 | |
| Affittacamere | TUTT 'E SANT | Via MONTEOLIVETO 86 | | |
| Bed and Breakfast | CASA MIRANAPOLI | Via G. Bruno 169 | 80122 | |
| Casa o Appartamento per Vacanze | CAPONAPOLI8 | Vico Sant' Aniello a Caponapoli 8 | | |
| Bed and Breakfast | CANTA NAPOLI | Via Duca Ferrante Della Marra 3 | | |
| Bed and Breakfast | AMBRA | Via Mezzocannone 109 | | |
| Affittacamere | Le isole del Golfo di Nobile Fernanda | Via S.Giovanni Maggiore Pignatelli 29 | | |
| Bed and Breakfast | B. e B. 248 | Corso Umberto 248 | 80138 | |
| Bed and Breakfast | BED & BREAKFAST - TALISMANO | Via Monteoliveto 86 | 80134 | |
| Bed and Breakfast | OVO SLOW TRAVEL | Via Santa Maria di Costantinopoli 84 | 80138 | |
| Bed and Breakfast | LE 4 STAGIONI | Via Toledo 16 | 80134 | |
| Casa o Appartamento per Vacanze | DUOMO REGINA APARTMENTS | Via Duomo 305 | | |
| Casa o Appartamento per Vacanze | LA TERRAZZA DI ROBERTA | Via SANTA LUICIA 62 | | |
| Affittacamere | HOSTEL OF THE SUN V PIANO | Via Melisurgo 15 | | |
| Bed and Breakfast | NIDO DEI GABBIANI | Via Privata del Parco Comola Ricci 201 | | |
| Bed and Breakfast | IL CHIOSTRO | Via del Chiostro 9 | 80134 | |
| Casa o Appartamento per Vacanze | CASA VACANZA SUITE FILANGIERI | Via ATRI 23 | | |
| Bed and Breakfast | B&B NAPOLI AMORE MIO | Via SPERANZELLA 133 | | |
| Affittacamere | RETTIFILO | Corso UMBERTO I 133 | 80138 | |
| Affittacamere | #ZONAPORTO | Via DUOMO 348 | | |
| Bed and Breakfast | NAPOLI CENTRO STORICO | Via TRIBUNALI 169 | | |
| Casa o Appartamento per Vacanze | YOURELAIS PERGOLESI SUITE 1 | Via GIAMBATTISTA PERGOLESI 1 | | |
| Bed and Breakfast | ADDA PASSA' A NUTTATA | Piazza EDUARDO DE FILIPPO 8 | | |
| Bed and Breakfast | RICCIARDIELLO CLOTILDE | Via Francesco Paolo Michetti 10 | | |
| Bed and Breakfast | CASA MOLINARI | Via SANTA BRIGIDA 68 | | |
| Casa o Appartamento per Vacanze | MAISON SPERANZELLA | Via SPERANZELLA 60 | | |
| Bed and Breakfast | YUOTHHOME" | Piazza Principe Umbertp 35 | 80142 | |
| Bed and Breakfast | ISA GUEST ROOMS | Via Fedro 4 | 80122 | |
| Bed and Breakfast | A DUE PASSI DA DANTE | Vico San Domenico Soriano 20 | | |
| Bed and Breakfast | B&B VILLA RICIARDI | Via ADRIANO TILGHER 1 | | |
| Affittacamere | PALAZZO 15 | Via PORTANOVA 15 | | |
| Bed and Breakfast | CASA CARACCIOLO | Via Carbonara 33 | 80100 | |
| Casa per ferie | LA RESIDENZA | Via De Blasiis 9 | | |
| Affittacamere | DANTE MAISON DE PRESTIGE | Via TARSIA 64 | | |
| Casa o Appartamento per Vacanze | CARTEN APARTMENT | Via GUGLIELMO MELISURGO 44 | | |
| Casa o Appartamento per Vacanze | CASA CIDIS | Via STEFANO BRUN 1 | | |
| Casa o Appartamento per Vacanze | CULTURE RESIDENCE | Via CONSALVO 8 | | |
| Affittacamere | LA BAIA DI PARTENOPE | Corso Umberto I 22 | | |
| Bed and Breakfast | MUSICA E MARE | Via San Carlo 26 | | |
| Affittacamere | NAPOLI SVELATA | Corso Umberto I 217 | 80138 | |
| Bed and Breakfast | CASA ARAGONESE | Via Gennaro Serra 69 | 80132 | |
| Bed and Breakfast | DIMORA NAPOLETANA | Via Domenico Cirillo 23 | 80139 | |
| Bed and Breakfast | Il Viaggiatore | Via Cisterna dell'Olio 13 | 80134 | |
| Affittacamere | PALAZZO RINUCCINI RELAIS | Piazza DANTE 22 | | |
| Casa o Appartamento per Vacanze | ANGELO VERO | Via Paolo Michetti 1 | | |
| Affittacamere | DAILY NAPOLI | Via Chiatamone 6 | | |
| Casa o Appartamento per Vacanze | CASA CAMPANA CENTRAL STATION NAPOLI | Via Arenaccia 29 | | |
| Bed and Breakfast | TARUMBO | SALITA Sant'Elia 25A | | |
| Bed and Breakfast | Lady B. | Via Ospizio Pasqualino Cafaro 4 | 80124 | |
| Bed and Breakfast | SINFONIA DI NAPOLI | Via Gianbattista Ruoppolo 121 | 80100 | |
| Affittacamere | 1970 ROOMS | Via San Giacomo 24 | 80133 | |
| Bed and Breakfast | B&B CASA VITTORIA | Via Giovanni Miranda 25 | 80131 | |
| Affittacamere | ALIS VANVITELLI SUITE Galleria Vanvitelli 37 | | | |
| Affittacamere | DEGAS FLAT | CALATA TRINITA' MAGGIORE 53 | 80100 | |
| Casa o Appartamento per Vacanze | CASA GAMILIA | Vico CARIATI 60 | | |
| Casa o Appartamento per Vacanze | COMFORT ZONE | Via AGOSTINO DEPRETIS 19 | | |
| Bed and Breakfast | DREAMING OF NAPLES | Via Tommaso Caravita 14 | 80134 | |
| Bed and Breakfast | B&B LE STANZE IN FIERA | Piazza Pilastri 23 | 80100 | |
| Bed and Breakfast | ZOOM | Via Diocleziano 326 | 80124 | |
| Affittacamere | MEGARIDE HOUSE | Via SAN BIAGIO DEI LIBRAI 103 | | |
| Affittacamere | CASA VACANZA LHP SUITE NAPOLI Parco Margherita 4 | | | |
| Casa o Appartamento per Vacanze | IL MARCHESE DI NAPOLI | Corso GARIBALDI 62 | | |
| Bed and Breakfast | VOMERO HOUSE | Via Luca Giordano 71 | 80129 | |
| Casa per ferie | Pensionato studentesco S.Tommaso D'Aquino | Via mezzocannone | 5° piano 143 | |
| Bed and Breakfast | SMILING NAPLES | Via Mario Fiore 81 | 80129 | |
| Casa o Appartamento per Vacanze | ANTICA STORIA | Via S. Agostino alla Zecca 68 | | |
| Bed and Breakfast | La Bugia | Via Pasquale Scura 72 | 80134 | |
| Affittacamere | CUORE DI NAPOLI | Via Foria 76 | | |
| Bed and Breakfast | Spaccanapoli Bros. | Via S.Biagio dei Librai 25 | 80138 | |
| Bed and Breakfast | B&B BINARIO 39 | Piazza GARIBLADI 39 | | |
| Bed and Breakfast | B&B GOLDMUND | Via Armando Diaz 24 | | |
| Affittacamere | BARBARELLA SUITE | Via Cervantes 64 | | |
| Bed and Breakfast | CASA LAURINO B&B | Via Alcide de Gasperi 55 | | |
| Casa o Appartamento per Vacanze | #GUANTAINUOVI16 | Via GUANTA NUOVI 16 DNNNGL65B59F839R | | |
| Affittacamere | DIMORA AUGUSTEO | Via TOLEDO 265 | | |
| Bed and Breakfast | ALESSANDRO PARENTE | Corso Arnaldo Lucci 121 | | |
| Bed and Breakfast | LE STANZE DEL VICERE' | Via Stella 94 | 80135 | |
| Casa o Appartamento per Vacanze | VILLA DELLE FATE | Via Giuseppe Mancinelli 50 | | |
| Affittacamere | MECLA SUITES | Via GENNARO SERRA 75 | | |
| Bed and Breakfast | ARENELLA HOME | SALITA ARENELLA 9 | | |
| Affittacamere | DANTE MAISON DE LUXE | Via TARSIA 64 | | |
| Bed and Breakfast | CERASELLA | Via Luca Giordano 3 | 80127 | |
| Casa o Appartamento per Vacanze | HOLIDAY HOUSE | Via S.Maria Del Pianto 156 156 | | |
| Casa o Appartamento per Vacanze | L'APPARTAMENTO MERIDIONALE | Corso MERIDIONALE 11 | | |
| Affittacamere | MOKA SUITE | Via F. Caracciolo 13 | 80122 | |
| Bed and Breakfast | IL CORALLO | Via Pier delle Vigne 5 | | |
| Casa per ferie | LA CASETTA NEL BOSCO | Via Annibale Caccavello 20 | | |
| Bed and Breakfast | TOLEDO'S HEART | Via TOLEDO 156 | | |
| Bed and Breakfast | BED & BREAKFAST TECLA | Piazzetta Bianchi allo Spirito Santo 10 | | |
| Bed and Breakfast | CASA LEGO | Via Salvator Rosa 18 | 80100 | |
| Bed and Breakfast | B&B NAPOLI BOREALE CENTRAL STATION | Corso GARIBALDI 131 | | |
| Bed and Breakfast | IMMAGINEAZIONE B&B | Via S.Spirito di palazzo 46 | 80132 | |
| Casa o Appartamento per Vacanze | OTTIERI APARTMENT NAPOLI | Via ANNUNZIATA 30 | | |
| Casa o Appartamento per Vacanze | F. E. N. Corporation spa | Via A. De | | |
| Bed and Breakfast | B&B MARTINI | Via Giuseppe Capaldo 30 | 80128 | |
| Bed and Breakfast | B&B CI | Via FILIPPO MARIA BRIGANTI 364 | | |
| Casa o Appartamento per Vacanze | MATER DEI FLAT | Piazzetta MATERDEI 2 | | |
| Casa o Appartamento per Vacanze | FIRST HOUSE POSILLIPO | LARGO SERMONETA 24 | | |
| Bed and Breakfast | LE STANZE DI DOLLY | Corso Umberto I 35 | 80138 | |
| Casa o Appartamento per Vacanze | A' CASA DI PEPPE | Via Stadera 105 | | |
| Bed and Breakfast | MAISON MARI | Piazza SANNAZZARO 200 | | |
| Bed and Breakfast | TAGGARB DI DANIELE CUSCUNA' | Via Toledo 55 | 80100 | |
| Bed and Breakfast | APERTURE | Via Ferrara 62 | | |
| Bed and Breakfast | AL MASCHIO ANGIOINO | Via S. Brigida int. 11 51 | 80133 | |
| Affittacamere | LALLAS HOME | Via Beniamino Guidetti 112 | | |
| Bed and Breakfast | B&B Living Rosetta | Via Silvio Spaventa 27 | 80142 | |
| Bed and Breakfast | ZIABI | Via Ponti Rossi 113F | | |
| Bed and Breakfast | DELLE PALME | Vico Vetriera a Chiaia 15 | 80132 | |
| Bed and Breakfast | APPARTAMENTI NAPOLI | Via Bartolomeo Chioccarelli 68 | 80133 | |
| Affittacamere | ANGELICA | Via S.ANTONIO ABATE 1 | | |
| Bed and Breakfast | LITTLE B&B | Via CONCEZIONE A MONTECALVARIO 10 | | |
| Casa o Appartamento per Vacanze | ALE & TIZY HOUSE DI ALESSANDRO PALMA | Vico | | |
| Casa o Appartamento per Vacanze | ACATE81 LIFESTYLE APARTMENT | Via ACATE 81 | | |
| Bed and Breakfast | PARTHENOPE'S HOME | Piazza GARIBALDI 101 | | |
| Casa per ferie | INTERNO16HOLIDAYHOME | Vico Giganti 20 | | |
| Bed and Breakfast | MAGIA DI NAPOLI | Via R.De Sangro di sansevero 27 | 80134 | |
| Bed and Breakfast | ECO DI NAPOLI | Via Vincenzo Gemito 1/i | 80127 | |
| Affittacamere | DELCO NAPLES ROOMS & SUITES | Via S. MARIA A CAPPELLA VECCHIA 8 | | |
| Casa o Appartamento per Vacanze | CASA VACANZA FRANGIO' | Piazzetta GRANDE ARCHIVIO 1 | | |
| Bed and Breakfast | IL RIFUGIO DI GARIBALDI | Via TORINO 6 | | |
| Affittacamere | L AGRUMETO | Via MICHELANGELO DA CARAVAGGIO 109 | 80126 | |
| Bed and Breakfast | B&B A_DURMI' | Via Pietro Colletta 12 | 80100 | |
| Bed and Breakfast | CENTRO ANTICO | Via Raimondo de Sangro di Sansevero 23 | 80134 | |
| Bed and Breakfast | Central City | Via Strettola S.Anna Alle paludi 115 | 80142 | |
| Bed and Breakfast | HALL INN B&B IN NAPLES | Via Guglielmo Melisurgo 15 | | |
| Bed and Breakfast | PARTENOPE SUITE DI ALESSANDRO CONTENTO | Vico Giganti 46 | 80100 | |
| Casa per ferie | BORGO ANTIGNANO | Via Annella di Massimo 4 | | |
| Casa o Appartamento per Vacanze | MYB | Via MARIO MORGANTINI 3 | | |
| Bed and Breakfast | B&B BOUTIQUE TOLEDO | Via TOLEDO 373 | | |
| Bed and Breakfast | LA CASA DI ROSELIN | Via Francesco Saverio Correra 16 | 80135 | |
| Bed and Breakfast | THE STATION | Via CESARE ROSAROLL 6 | | |
| Bed and Breakfast | HOME AND MORE | Via Santa Brigida 72 | 80132 | |
| Bed and Breakfast | CASA MIA | Via Giacinto Gigante 5 | 80136 | |
| Bed and Breakfast | TRECENTODICIANNOVE AL DUOMO | Via DUOMO 319 | | |
| Bed and Breakfast | CLOUDS OF NAPLES B&B | Via Carlo Pisacane 29 | | |
| Casa o Appartamento per Vacanze | HOME SWEET HOME NAPOLI | Corso SECONDIGLIANO 166 | | |
| Casa o Appartamento per Vacanze | IL CAVALIERE DI TOLEDO DON RODRIGO | Via Montecalvario | | |
| Bed and Breakfast | LA PENNICA | Via Domenico Cimarosa 186 | | |
| Bed and Breakfast | SKYHOUSE CHIATAMONE | Via Chiatamone 55 | 80100 | |
| Affittacamere | CONTE CAVOUR | Piazza Cavour 152 | 80137 | |
| Bed and Breakfast | DI FIORE | Piazza Nicola Amore 6 | | |
| Bed and Breakfast | DIMORA DEI GIGANTI | Vico Giganti 55 | 80138 | |
| Casa o Appartamento per Vacanze | CASA VISCARDI | Via Alcide De Gasperi 5 | | |
| Affittacamere | DADA SUITE | Via NARDONES 80 | | |
| Affittacamere | SPINELLI SABRINA | Vico PAPA 12 | | |
| Bed and Breakfast | B&B CAVALIERE | Via Pietro Giannone 33/A | | |
| Casa o Appartamento per Vacanze | MUSEUM COMFORT APARTMENT | Vicoletto SAN GIUSEPPE 7 | 80135 | |
| Affittacamere | LA FONTANINA SUITES | Corso UMBERTO I 58 | 80138 | |
| Bed and Breakfast | B&B NILO | Via Nilo 28 | 80100 | |
| Affittacamere | IL | Vicoletto DI SANTA LUCIA | Via MEGARIDE 16 | |
| Bed and Breakfast | DOMUS REGINELLA | Via Tarsia 64 | 80135 | |
| Bed and Breakfast | NEST | Via Nuova Poggioreale 154 | | |
| Bed and Breakfast | MA.Lì | Via Toledo 429 | 80132 | |
| Casa o Appartamento per Vacanze | COR A COR A NAPOLI | Via Piazza LARGA | | |
| Affittacamere | NAPOLI CENTRO | Piazza Garibaldi 26 | 80132 | |
| Casa per ferie | DA SIMMI E ROB | Corso Vittorio Emanuele 110 | | |
| Bed and Breakfast | A CASA DI MAMMA | Via Salvator Rosa 284 | | |
| Affittacamere | FONSECA NAPLES | Vico Fonseca 13 | | |
| Bed and Breakfast | B.e B. Correra | Via F.S. Correra 226 80035 | | |
| Casa o Appartamento per Vacanze | CAMPI FLEGREI TRA STORIA E NATURA | Via GIROLAMO | | |
| Casa o Appartamento per Vacanze | RESIDENZA TOLEDO | Vico Giardinetto 13 | | |
| Casa o Appartamento per Vacanze | NAIMA Calata San Francesco 8 | | | |
| Bed and Breakfast | LA CATTEDRALE | Piazza Cardinale Riario Sforza 159 | 80139 | |
| Affittacamere | MACCHIATO SUITES | Via CARMINIELLO AL MERCATO 14 | 80133 | |
| Bed and Breakfast | GALLERIA PRINCIPE DI NAPOLI | Via BROGGIA 3 | | |
| Bed and Breakfast | B&B LA STORIA DI NAPOLI | Piazza Mercato 340 | 80142 | |
| Affittacamere | HOSTEL OF THE SUN II PIANO | Via Melisurgo 15 | | |
| Affittacamere | MADISON DI GIUSEPPE DI SAURO | Piazza Garibaldi 49 | 80142 | |
| Bed and Breakfast | B&B Palazzo Satriano Riviera di Chiaia 287 | | | |
| Affittacamere | CASA ROSA | Via S.MARIA DELLA FEDE 10 | | |
| Affittacamere | FIORENTINI RESIDENCE | Via dei Fiorentini 21 | 80133 | |
| Casa o Appartamento per Vacanze | CASA DEL RAGIONIERE | Via Giacomo Piscicelli 68 | | |
| Affittacamere | MAISON DU LA METRO | Piazza Cavour 122 | 80137 | |
| Bed and Breakfast | ASTRA B&B | Vico Campagnari 21 | 80133 | |
| Affittacamere | ATTICO PARTENOPEO | Via Santa Brigida 72 | 80132 | |
| Casa o Appartamento per Vacanze | LA SUPERSTIZIOSA | Via Egiziaca a Pizzofalcone 97 | | |
| Bed and Breakfast | MISERIA E NOBILTA' | Via S. Anna dei Lombardi 5 | 80134 | |
| Bed and Breakfast | AL QUARTO PIANO | Via Atri 23 | 80100 | |
| Bed and Breakfast | RELAIS BORBONICO | Vico ROSARIO DI PALAZZO 25 | | |
| Bed and Breakfast | B. e B. Montecalvario 41 | Via Montecalvario 41 | | |
| Bed and Breakfast | Il salotto di Nonna Cornelia | Via Cavallerizza a Chiaia 60 | | |
| Casa o Appartamento per Vacanze | NAPOLI CENTRAL STATION | Corso ARNALDO LUCCI 121 | | |
| Casa o Appartamento per Vacanze | QUO VADIS HOUSE Salvator Rosa 124 | | | |
| Bed and Breakfast | LA PEONIA | Piazza Garibaldi 3 | 80142 | |
| Bed and Breakfast | SOFI | Vicolo Santa Maria a Cappella Vecchia 23 | | |
| Bed and Breakfast | ANTICA DIMORA NAPLES | Via Rosario a Portamedina 24 | 80124 | |
| Affittacamere | IL CHIATTILLO | Via Michele Kerbaker 55 | 80129 | |
| Bed and Breakfast | MIRACOLETTI 38 | Vico Miracoli 38 | | |
| Bed and Breakfast | VILLINO ITALIA | Via Belisario Corenzio 13 | 80127 | |
| Bed and Breakfast | ALLE ANTICHE TERME | Via Cupa Capano 3 | 80124 | |
| Bed and Breakfast | LA CASA AL PORTO Rua Toscana 13 | 80100 | | |
| Bed and Breakfast | BELLINI SUITE | Via S.M. COSTANTINOPOLI ALLE MOSCHE 23 | | |
| Bed and Breakfast | LE MUMMARELLE B e B | Via S. LUCIA 34 | | |
| Bed and Breakfast | DOMUS FLEGREA | Via Caio Duilio 11 | | |
| Bed and Breakfast | CLEAR DREAMS B&B | Via BATTISTELLO CARACCIOLO 12 | | |
| Casa o Appartamento per Vacanze | CASA VACANZE PIGNATELLI Rampe San Giovanni Maggiore 12 | | | |
| Bed and Breakfast | Domus Aurea | Via Francesco Cilea 117 | 80127 | |
| Bed and Breakfast | I FIORI DI NAPOLI | Via Francesco Girardi 92 | 80134 | |
| Bed and Breakfast | DAMè | Via Michelangelo Schipa 36/a | 80123 | |
| Bed and Breakfast | SANTELMO LACATENA | Vico Sant'Elmo a Carbonara 8 | | |
| Casa o Appartamento per Vacanze | La Residenza | Via de blasiis 44811 int. Da | | |
| Bed and Breakfast | AGUSTEO | Via Speranzella 115 | 80132 | |
| Bed and Breakfast | PANORAMIC APARTMENT TARSIA | SALITA Tarsia 50 | | |
| Affittacamere | MICALÒ ARTROOMS | Via RIVIERA DI CHIAIA 88 | | |
| Bed and Breakfast | ANGELA | Via San Biagio dei Librai 103 | | |
| Bed and Breakfast | Le Sorelle | Via Michelangelo 21 | 80129 | |
| Affittacamere | NAPOLI | Via Chiaia 232 | | |
| Bed and Breakfast | BELLORIZZONTE | Corso UMBERTO I 7 | | |
| Affittacamere | M 99 DESIGN ROOMS | Via Mezzocannone 99 | | |
| Bed and Breakfast | Piazza DANTE | Vico Mastellone 16 | | |
| Affittacamere | FORIA 210 | Via FORIA 210 | | |
| Bed and Breakfast | Relais castelnuovo | Piazza Municipio 86 | 80133 | |
| Bed and Breakfast | PISOLO | Corso Vitt. Emanuele 487 | 80135 | |
| Bed and Breakfast | OLTREMARE STUDIOS | Piazzale Vincenzo Tecchio 49 | 80125 | |
| Bed and Breakfast | Rossonapoletano | Via Forcella 26 | 80139 | |
| Casa o Appartamento per Vacanze | IL CAVALIERE DI TOLEDO DON PEDRO | Via Montecalvario | | |
| Affittacamere | LA CANZANELLA | Vico Quercia 22 | 80134 | |
| Casa religiosa di ospitalita CASA ALBA LAETA | SALITA San Nicola da Tolentino 50 | | | |
| Affittacamere | BOURBON HOUSE | Via Chiatamone 6 | | |
| Bed and Breakfast | CASA LILIANA | Via Merliani 20 | 80127 | |
| Bed and Breakfast | CASA DEL SOLE | Via Duca Ferrante della Marra 3 | 80136 | |
| Bed and Breakfast | B&B NAPOLI CENTRO STORICO | Vico Carceri S.Felice 3 | 80139 | |
| Affittacamere | MUNACIELLO ROOMS CALATA TRINITA' MAGGIORE 9 | | | |
| Casa o Appartamento per Vacanze | I COLORI DI SALVATOR ROSA | Via Salvator Rosa | | |
| Casa o Appartamento per Vacanze | 5 SIRENE SUITE | Piazza Giovanni Bovio 8 | | |
| Affittacamere | NAPOLI BINARIO 1 | Piazza GARIBALDI 60 | 80142 | |
| Bed and Breakfast | ZUPPIERI MARIAROSARIA | Via Torino 53 | 80142 | |
| Bed and Breakfast | B&B TOP FLOOR | Piazza Garibaldi 73 | 80142 | |
| Affittacamere | RESIDENZA PIZZOFALCONE | Via EGIZIACA A PIZZOFALCONE 97 | | |
| Affittacamere | MEZZOCANNONE 109 | Via Mezzocannone 109 | | |
| Bed and Breakfast | BED & BREAKFAST VESUVIO | Corso Garibaldi 367 | 80142 | |
| Affittacamere | LE STANZE DEL VICERE' Vis Stella 94 | 80135 | | |
| Bed and Breakfast | CHEZ MOI | Piazza Garibaldi 39 | 80100 | |
| Bed and Breakfast | LO SPECCHIO DI PARTHENOPE | Via ANDREA D'ISERNIA 2 | 80122 | |
| Affittacamere | BELLE ARTI RESORT | Via Santa Maria di Costantinopoli 27 | | |
| Bed and Breakfast | EPOCHE' | Via Carbonara 3 | 80100 | |
| Bed and Breakfast | SUITE PARTENOPEA | Piazza PILASTRI 7 | | |
| Affittacamere | CASA ANDRIANI | Via S. ARCANGELO A BAIANO 34 | | |
| Bed and Breakfast | BED DUCA D'AOSTA | Via GIACOMO LEOPARDI 136 | | |
| Affittacamere | Residence Angioini | Via S. Carlo 26 | 80133 | |
| Bed and Breakfast | LA CABALA | Via Pomponio Gaurico 21 | 80125 | |
| Casa o Appartamento per Vacanze | NAPOLITHOUSE | Via ALCIDE DE GASPERI 5 | | |
| Affittacamere | NEL CUORE DI PARTHENOPE | Via Foria 42 | 80137 | |
| Casa o Appartamento per Vacanze | CASA NAPOLETANA | Piazza SAN DOMENICO 3 | | |
| Bed and Breakfast | MEGARIDE SANTA LUCIA | Via S.Lucia 29 | 80132 | |
| Bed and Breakfast | B&B IN GIRO PER NAPOLI | Via Foria 153 | 80100 | |
| Casa o Appartamento per Vacanze | MATERDAYS | Via Bartolomeo Caracciolo 24 | | |
| Bed and Breakfast | B&B ViaGGIO A NAPOLI | Corso Umberto I 293 | 80100 | |
| Bed and Breakfast | B & B BELLA VITA | Via S.Mandato 46 C | | |
| Bed and Breakfast | ANTHEA | Viale Ottavio Cesare Augusto 122 | 80125 | |
| Bed and Breakfast | B&B STUDIO PAPA | Via Salvator Rosa 149 | 80100 | |
| Affittacamere | RELAIS Piazza DEL PLEBISCITO | Via Solitaria 39 | 80132 | |
| Bed and Breakfast | PALAZZO TOLEDANO | Via Toledo 389 | | |
| Bed and Breakfast | LA LOCANDA DI GIO' | Via Suor orsola 12 | 80135 | |
| Bed and Breakfast | SALOTTO BORBONICO | Via Mario Morgantini 3 | 80100 | |
| Bed and Breakfast | B&B DOMUS VESUVIO | Via Nazionale 6 | | |
| Bed and Breakfast | I SORRISI DI NAPOLI | Via Giuseppe Pica 48 | 80100 | |
| Bed and Breakfast | AL CASTELLO | Corso Vittorio Emanuele 166 | 80121 | |
| Casa per ferie | IL CANTO DI PARTENOPE | Corso Amedeo di Savoia 214 | | |
| Casa per ferie | PLEBISCITO APARTMENTS | Via Monte di Dio 49 | | |
| Casa o Appartamento per Vacanze | VOMERO GUEST HOUSE | Via Francesco Cilea 112 | | |
| Bed and Breakfast | LA MANSARDA DI PICIA | Via Duomo 314 | 80100 | |
| Casa per ferie | CASA DONNA ROSA NAPOLI SWEET HOME | Via San Giovanni a | | |
| Bed and Breakfast | FONDACO NAPOLI BROS | Via S.Gregorio Armeno 21 | 80138 | |
| Casa o Appartamento per Vacanze | IL BRICO | Via SAN GIOVANNI MAGGIORE 38 | | |
| Affittacamere | RESIDENZA MALATERRA | Via GOFFREDO MALATERRA 18 | | |
| Bed and Breakfast | BED & BREAKFAST DI ZAPPACOSTA RICCARDO | Via Enrico Pessina 90 | | |
| Casa o Appartamento per Vacanze | N'APARTMENT | Via GENERALE GIORDANO ORSINI 46 | | |
| Casa o Appartamento per Vacanze | MONTESANTO HOLIDAY HOUSE | Via MONTESANTO 56 | | |
| Bed and Breakfast | CASA MARINA | Corso MERIDIONALE 51 | | |
| Bed and Breakfast | BED & BREAKFAST TRAVELLERS | Via GENOVA 107 | | |
| Casa o Appartamento per Vacanze | TORRE GARIBALDI | Via POSILLIPO 222 | | |
| Bed and Breakfast | Casa galiani 20 | Via Galiani 20 | | |
| Affittacamere | MARINA RESART | Via Nuova Marina 20 | | |
| Affittacamere | ISTAYINTOLEDO LUXURY GUEST HOUSE | Via Armando Diaz 8 | | |
| Bed and Breakfast | B&B PALAZZO ROTA | Vico Pallonetto a S. Chiara 32 | | |
| Affittacamere | IT S ROOM NAPLES | Vico Figurari 2 | | |
| Casa o Appartamento per Vacanze | CASA VACANZE | Via SOLIMENA 127 | | |
| Bed and Breakfast | CAMERA CON VISTA | Vico II Quercia 4 | 80134 | |
| Bed and Breakfast | LE STANZE DEI MILLE | Vico VETRIERA 12 | 80132 | |
| Bed and Breakfast | ANNUNZIATA Bed and Breakfast | Via dei Carrozzieri a Monteoliveto 24 | | |
| Affittacamere | BORGO ANGIOINO | Via S.BARTOLOMEO 50 | | |
| Casa o Appartamento per Vacanze | PINA HOME | Via GIULIO NATTA 8 | | |
| Casa o Appartamento per Vacanze | CASA MIA | Piazza CARLO III 42 | | |
| Bed and Breakfast | MUSEO SUITE | Via Matteo Renato Imbriani 27 | | |
| Bed and Breakfast | RAINBOW | Via Foria 228 | 80133 | |
| Bed and Breakfast | DOMUS REAL STELLA | SALITA STELLA 21 | | |
| Affittacamere | MONTEOLIVETO 33 | Via MONTEOLIVETO 33 | 80134 | |
| Bed and Breakfast | LA MAISON LOPOMO | Via Palermo 30 | | |
| Bed and Breakfast | LA NAVE | Via Posillipo 176 | 80123 | |
| Bed and Breakfast | ORNELLA | Via del Formale 29 b | 80100 | |
| Bed and Breakfast | CASA BERNINI | Via G. Lorenzo Bernini 45 | 80129 | |
| Casa o Appartamento per Vacanze | CASA MAMA | Via Toledo 429 | | |
| Bed and Breakfast | CASA AZZURRA | Via Torrione S:Martino 27 | 80127 | |
| Bed and Breakfast | MARELUNA | Vico Campane a Donnalbina 9 | 80134 | |
| Affittacamere | THE DANTE HOUSE | Piazza Dante Alighieri 22 | 80144 | |
| Affittacamere | DOMUS ROSA | Vico Santa Luciella 3 | | |
| Bed and Breakfast | PORTANOVA | Via portanova 38 | 80138 | |
| Bed and Breakfast | B&BE' | Corso Vittorio Emanuele 466 | 80100 | |
| Bed and Breakfast | B&B SORELLE PARTENOPE | Via NARDONES 48 | | |
| Bed and Breakfast | B&B QUATTRO PALAZZI | Via Eletto Starace 7 | 80138 | |
| Bed and Breakfast | B&B alla Stazione | Via Firenze 54 | 80143 | |
| Casa o Appartamento per Vacanze | DELBY'S HOUSE | Via VERGINI 56 | 80137 | |
| Bed and Breakfast | DECUMANO XXIII | Via Benedetto Croce 23 | 80100 | |
| Bed and Breakfast | B&B Piazza DANTE | Vico Mastellone 16 | 80135 | |
| Bed and Breakfast | Villa Carolina | Via Vicinale Camaldolilli 142 | 80131 | |
| Bed and Breakfast | CAMERA PLEBISCITO | Via Nardones 118 | 80132 | |
| Bed and Breakfast | PLATAMON | Via Chiatamone 55 | 80121 | |
| Bed and Breakfast | AEROPARKING | Via GIAIME PINTOR 23 | | |
| Casa o Appartamento per Vacanze | CASA VACANZA | Corso Arnaldo Lucci 121 | | |
| Bed and Breakfast | A CASA DEL PRINCIPE | Via Francesco de Sanctis 29 | | |
| Bed and Breakfast | B&B ZIA SUA | Via Egiziaca a Pizzofalcone 11 | 80100 | |
| Casa o Appartamento per Vacanze | IDEAL HOUSE | Via VINCENZO TIBERIO 21 | | |
| Bed and Breakfast | TERRAZZA CARLO TERZO | Piazza CARLO III 53 | | |
| Bed and Breakfast | ROOMS RENT VESUVIO | Via MARIO POMILIO 9 | | |
| Affittacamere | PALAZZO DEPRETIS | Via DePretis 19 | 80133 | |
| Affittacamere | SONEVI ROOMS | Via ENRICO COSENZ 13 | | |
| Casa o Appartamento per Vacanze | MUNICIPIO 24 CALATA SAN MARCO 24 | | | |
| Casa o Appartamento per Vacanze | CASA ANDREA - PLEBISCITO APARTMENT | Via SOLITARIA -41 | | |
| Casa o Appartamento per Vacanze | TERRAZZA PRINCIPE DI SAN SEVERO | Via R. DE | | |
| Affittacamere | SANTA LUCIA 133 | Via S. LUCIA 133 | | |
| Bed and Breakfast | LINDO | Via Cumana 9 | 80125 | |
| Bed and Breakfast | VIA DEL DUOMO | Via Duomo 214 | 80138 | |
| Bed and Breakfast | Piazza Bovio 22 | Piazza Bovio 22 | 80133 | |
| Casa o Appartamento per Vacanze | DINASTIA BORBONE | Via ANNUNZIATA 30 | | |
| Casa o Appartamento per Vacanze | YOURELAIS PERGOLESI SUITE 4 | Via GIAMBATTISTA PERGOLESI 1 | | |
| Casa o Appartamento per Vacanze | NEW HOUSE NAPOLI | Via VECCHIA NAPOLI 159 | 80145 | |
| Affittacamere | I BORBONE | Via Ottavio Tupputi 9 | | |
| Affittacamere | CASA VAC. PEAC SERVICE SRL | Via Enrico Alvino 157 | | |
| Casa o Appartamento per Vacanze | HOME MASAVIDA | Via PROVINCIALE DI CASERTA 23 | | |
| Bed and Breakfast | MASSA E CO | Via Concezione a Montecalvario 10 | 80134 | |
| Bed and Breakfast | B & B TERRA MIA | Via Salvator Rosa 63 | 80135 | |
| Casa o Appartamento per Vacanze | CASA VACANZA CASA CAROLINA | Via POSILLIPO 181 | | |
| Bed and Breakfast | IL VENTRE DI NAPOLI | Via Santa Maria di Costantinopoli 130 | | |
| Bed and Breakfast | Sky House Beverello Varco Guglielmo Melisurgo 4 | 80123 | | |
| Bed and Breakfast | NON CI RESTA CHE NAPOLI | Via SALVATOR ROSA 299 | | |
| Bed and Breakfast | DUOMO 64 | Via DUOMO 64 | | |
| Bed and Breakfast | Corso 377 | Corso Vittorio Emanuele 377 | 80135 | |
| Affittacamere | L'ALLOGGIO DEI VASSALLI | Via Donnalbina 56p.amm.int.3 56 | 80134 | |
| Bed and Breakfast | INTERNATIONAL FIORENTINI | Via dei Fiorentini 61 | 80133 | |
| Bed and Breakfast | DOMUS ARMENIO | Via Ferri Vecchi 13 | 80138 | |
| Casa o Appartamento per Vacanze | A CASA DI TITTO GUEST HOUSE | Via PASQUALE | | |
| Bed and Breakfast | L'ANTICO SEGGIO | Via Sedil Capuano 16 | 80138 | |
| Casa per ferie | CASA NOLANA | Piazza Nolana 13 | | |
| Bed and Breakfast | ALBA CHIARA | Via Lepanto 137 | | |
| Bed and Breakfast | GARIBALDI STATION 2 PUNTO 0 | Via Giuseppe Ricciardi 10 | | |
| Bed and Breakfast | PIZZASLEEP | Piazza S. Alfonso e S.Antonio a Tarsia 11/G | 80100 | |
| Bed and Breakfast | ISOLE | Via ANTONINO D'ANTONA 20 | | |
| Bed and Breakfast | S. Felice Centro Storico | Via Guglielmo Sanfelice 33 | 80134 | |
| Bed and Breakfast | S.BRIGIDA | Via Santa Brigida int. 13 51 | 80133 | |
| Bed and Breakfast | GARIBALDI DELUXE | Piazza GARIBLADI 60 | | |
| Casa o Appartamento per Vacanze | CASA DANTE | Via ENRICO PESSINA 73 | | |
| Ostello per la gioventu | BELLA NAPOLI | Via Melisurgo 4 | | |
| Bed and Breakfast | FIUMARA | Via dei Tribunali 276 | 80138 | |
| Bed and Breakfast | DONNA REGINA | Via Luigi Settembrini 80 | 80138 | |
| Bed and Breakfast | SLEEP AND ZUP | Vico Monteleone 12 | 80100 | |
| Bed and Breakfast | NAPOLI DA MARE | LARGO Sermoneta 10 | | |
| Bed and Breakfast | ROSELIN | Via Francesco Saverio Correra 16 | 80100 | |
| Affittacamere | HOSTEL OF THE SUN | Via Melisurgo sc.B Int.44 15 | 80133 | |
| Casa o Appartamento per Vacanze | REVERIE NAPOLI' | Vico Lammatari 33 | | |
| Casa o Appartamento per Vacanze | FERRIGNI 20 | Via GIUSEPPE FERRIGNI 20 | | |
| Bed and Breakfast | ORO DI NAPOLI LUXURY B&B | Via S. Teresella degli Spagnoli | | |
| Bed and Breakfast | TOLEDO ONE | Via CESARE BATTISTI 15 | 80121 | |
| Bed and Breakfast | B&B IL FARO DI SERAPIDE | Via SERAPIDE 9 | | |
| Affittacamere | NEAPOLITAN TRIPS BEDANDBREAKFAST | Via dei Fiorentini 10 | 80133 | |
| Bed and Breakfast | CASAPAG MERGELLINA STATION | Via FEDRO 4 | | |
| Bed and Breakfast | L'ALBERO DI LIMONI | SALITA del casale 12 | 80123 | |
| Affittacamere | REGINA SUITE | Via Milano 13 | 80142 | |
| Casa o Appartamento per Vacanze | DIMORA CASTELCAPUANO | Vico TINELLARI 24 | | |
| Casa o Appartamento per Vacanze | ST.JOSEPH SUITE | Via S.GIUSEPPE DEI NUDI 18 | | |
| Bed and Breakfast | NEAR CENTRAL STATION | Via Firenze 76 | 80142 | |
| Bed and Breakfast | CARAFA SUITE | Piazzetta Arc. Scacchi 7 | 80134 | |
| Bed and Breakfast | THE ANDY HOUSE B&B | Via Consalvo Carelli 14 | 80100 | |
| Appartamento per Vacanze WELCOME TO THE JUNGLE | Viale PRIVATO COMOLA RICCI (PARCO COMOLA | | | |
| Affittacamere | THE BELLINI HOUSE | Via Santa Maria di Costantinopoli 94 | 80138 | |
| Affittacamere | MAR MAR | Corso UMBERTO I 22 | | |
| Casa o Appartamento per Vacanze | NOVARA 43 | Corso Novara 43 | | |
| Bed and Breakfast | IL CINQUECENTO | Via Sedil Capuano 21 | 80138 | |
| Bed and Breakfast | LE VILLANELLE | Via Firenze 38 | 80100 | |
| Bed and Breakfast | BLUE DREAM | LARGO Ferrandina a Chiaia 7 | 80121 | |
| Bed and Breakfast | B. e B. Aminei Metro Cupa Imparato 7 | | | |
| Bed and Breakfast | B&B FEDERICO II | Via Antonio Tari 10 | 80100 | |
| Bed and Breakfast | CHIARO DI LUNA | Via S. Teresa degli Scalzi 118 | 80135 | |
| Bed and Breakfast | VESUVIUS TERMINAL | Corso Garibaldi 52 | | |
| Affittacamere | Mignone C. e Valle G. C.so Umberto I° 118 | 80138 | | |
| Bed and Breakfast | B.eb. Di Palumbo Roberto | Via Speranzella 184 | 80134 | |
| Casa o Appartamento per Vacanze | CASARTE | Via BROGGIA 3 | 80135 | |
| Bed and Breakfast | PALAZZO SAN VINCENZO | Corso San Giovanni 386 | 80146 | |
| Casa o Appartamento per Vacanze | YASMINE CASA VACANZA | Via GIUSEPPE ANTONIO PASQUALE 64 | | |
| Bed and Breakfast | CASA ARTEMISIA | Via Fonseca 39 | 80135 | |
| Bed and Breakfast | B&B ALTERA DOMUS | Via CISTERNA DELL'OLIO 7 | | |
| Bed and Breakfast | GIARDINO EDEN DI LONGO DAVIDE | Via Gabriele Iannelli 51 | 80128 | |
| Bed and Breakfast | O'' BEB | SALITA S.Raffaele 50 | 80136 | |
| Bed and Breakfast | B&B CHIARA NAPOLI | Viale Privato Comola Ricci 1/Bis | | |
| Bed and Breakfast | IL TRIRECE | Via Calascione 13 | 80132 | |
| Bed and Breakfast | B/B SPLENDID | Via Alessandro Manzoni 96 | 80123 | |
| Casa o Appartamento per Vacanze | NAPOLITHOUSE | Via ALCIDE DE GASPERI 5 | | |
| Bed and Breakfast | DOMUS GEMI | Via Tribunali 309 | 80138 | |
| Bed and Breakfast | B&B SAN CARLO | Via Nardones 17 | 80132 | |
| Affittacamere | NAPOLI GREAT VIEW | Via GUGLIELMO MELISURGO 15 | | |
| Bed and Breakfast | BED & BREAKFAST FILANGIERI | Via Filangieri 15 | 80121 | |
| Ostello per la gioventu | OSTELLO MERGELLINA | SALITA Della Grotta 23 | | |
| Bed and Breakfast | IL SORRISO | Via Duomo 193 | 80139 | |
| Bed and Breakfast | B&B DIMORA REAL MARIA | Corso Umberto I 329 | | |
| Bed and Breakfast | CASA MARINELLA | Viale Augusto 9 | 80125 | |
| Affittacamere | art rooms | Via Pessinasc.C 2p.int.7 66 | 80135 | |
| Affittacamere | NAPOLI ART | Via Medina 17 | 80133 | |
| Affittacamere | PONTE NUOVO | Via Ponte Nuovo 21 | | |
| Bed and Breakfast | GUANTAI 30 | Via Guantai Nuovi 30 | 80133 | |
| Bed and Breakfast | B. e B. Nilo | Via Nilo 28 | 80134 | |
| Bed and Breakfast | Napoli Retro | LARGO Donnaregina 4 | 80138 | |
| Bed and Breakfast | NAPOLI LEGGENDARIA | Via San Giovanni Battista Della Salle 10 | | |
| Bed and Breakfast | Bibliotechina | Via Guglielmo Sagrera 9 | 80129 | |
| Bed and Breakfast | FRANCA | Corso Vitt. Emanuele 110 | 80122 | |
| Bed and Breakfast | B&B SANFELICE | Via G. Sanfelice 33 | 80134 | |
| Affittacamere | IN CENTRO | Via Toledo 156 | | |
| Affittacamere | RELAIS DELLA PORTA SUITE SUB 27 | Via TOLEDO 368 | | |
| Casa o Appartamento per Vacanze | CHIATAMONE 53 SANITA' | Via CHIATAMONE 53/C | | |
| Affittacamere | AL CAMPANILE S.A.S. DI ACUNZO MARIA | Piazza MERCATO 45 | | |
| Bed and Breakfast | THE CHURCH | Via S.Biagio dei Librai 39 | 80138 | |
| Affittacamere | JUSTIN'S HOUSE | Via Alessandro Poerio 25 | | |
| Bed and Breakfast | LA CONCORDIA P.tta Concordia 5 | 80132 www.laconcordia.it | | |
| Affittacamere | SANTA LUCIA 20 | Via S. LUCIA 20 | | |
| Bed and Breakfast | NONNA STELLA | Via Potenza 9 | | |
| Bed and Breakfast | LA CASA DI SANDRA | Via ORAZIO 147 | | |
| Affittacamere | RELAIS SAN SEVERO | Piazzetta NILO 7 | | |
| Affittacamere | GRAND TOUR | Via S.Lucia 76 | 80132 | |
| Bed and Breakfast | DEI GEROLOMINI | Vico dei Panettieri int. 2 2 | | |
| Casa o Appartamento per Vacanze | ALE & TIZY HOUSE DI ALESSANDRO PALMA | Vico | | |
| Ostello per la gioventu | NEAPOLITAN TRIPS HOSTEL AND BAR | Via dei Fiorentini 10 | | |
| Bed and Breakfast | ROOMS/RENT VESUVIO | Via Mario Pomilio 9 | 80147 | |
| Bed and Breakfast | B&B Via TOLEDO 156 | Via Toledo 156 | 80134 | |
| Bed and Breakfast | IBED Cala Ospedaletto 18 | 80133 | | |
| Affittacamere | NEW GALLERY | Piazza Garibaldi 101 | 80142 | |
| Bed and Breakfast | CORE NAPOLI | Via Atri 21 | 80100 | |
| Bed and Breakfast | B&B VILLANOVA 37 | Via VILLANOVA 37 | | |
| Bed and Breakfast | L'ALBA | Corso Vittorio Emanuele 168 | 80100 | |
| Affittacamere | IN ARTE TOTO | Via ANTONIO DE CURTIS 17 | | |
| Affittacamere | CAPPELLA VECCHIA 11 | Vicolo Santa Maria a Cappella Vecchia 11 | 80121 | |
| Bed and Breakfast | NA SIESTA | Corso Umberto I 228 | 80138 | |
| Bed and Breakfast | CASALE A TOLEDO | Via Toledo 307 | 80100 | |
| Casa o Appartamento per Vacanze | MERGELLINA SWEET HOME SUB 136 | Piazza ERITREA 3 | | |
| Bed and Breakfast | b/b del Corso | Corso Garibaldi int.6 340 | 80139 | |
| Casa o Appartamento per Vacanze | MAISON MATTEOTTI 7 | Piazza GIACOMO MATTEOTTI 7 | | |
| Bed and Breakfast | SORIANO 44 | Via San Domenico Soriano 44 | | |
| Affittacamere | DIMORA SANFELICE | Via Cardinale Gugliemo Sanfelice 8 | | |
| Affittacamere | RESIDENCE CONFALONE | Via CONFALONE 7 | 80136 | |
| Affittacamere | 1799 BEB | Via San Carlo De Cesare 5 | 80132 | |
| Bed and Breakfast | B&B NAPOLI NAPOLI Traversa Michele Pietravalle 11 | 80100 | | |
| Casa o Appartamento per Vacanze | CAMERA 18 | Vico S. SEVERINO 18 | | |
| Casa o Appartamento per Vacanze | SELENE HOUSE | Vico S. MARIA APPARENTE 24 | | |
| Bed and Breakfast | CASA MARIELLA | Vico Lungo Gelso 46 | | |
| Bed and Breakfast | b&b A CASTEL CAPUANO | Via Pietro Colletta 116 | 80139 | |
| Affittacamere | NAPOLI SEA | Via Chiatamone 6 | | |
| Casa per ferie | CASA MYA | Piazza Cavour 118 | | |
| Affittacamere | L'ORTO DEL CONTE | Vicoletto ORTO DEL CONTE 12 | | |
| Bed and Breakfast | I DUE TORINESI | Via Bari 10 | | |
| Bed and Breakfast | b&bASTRA | Vico Campagnari 21 | 80133 | |
| Casa o Appartamento per Vacanze | CV MANDOLINO | SALITA S. ANTONIO A TARSIA 35 | | |
| Casa o Appartamento per Vacanze | IL POSTO FISSO A NAPOLI | Vico EGIZIACA A | | |
| Bed and Breakfast | B&B PALAZZO MAGNOCAVALLO | Via Francesco Girardi 37 | 80100 | |
| Casa per ferie | VELVET HOUSE | Vico San Petrillo 20 | | |
| Affittacamere | DANTE BOUTIQUE ROOMS | Vico SAN DOMENICO SORIANO 5 | | |
| Bed and Breakfast | DOMUS LUIGI LEONE II SUPPORTICO D'ASTUTI 22 | | | |
| Affittacamere | TRIANON | Via Forcella 67 | | |
| Bed and Breakfast | NAPOLICENTRO MARE | Corso VITTORIO EMMANUELE 114 | | |
| Bed and Breakfast | DSQUARE ACCOMMODATION | Via Vincenzo Bellini 67 | | |
| Casa o Appartamento per Vacanze | SUITE DELICIA APARTMENT | Via Mario Ruta 31 | 80128 | |
| Casa o Appartamento per Vacanze | LA CASA DI NUCCI | Vico PARADISO ALLA SALUTE | | |
| Affittacamere | DEL VENTO HOME | SALITA Pontecorvo 11 | | |
| Bed and Breakfast | BED & BREAKFAST THOUSAND COLORS | Corso Garibaldi 338 | 80139 | |
| Bed and Breakfast | CATOLEDO | Vico Lungo Gelso 53/A | | |
| Casa o Appartamento per Vacanze | IL FIORE D'ORO LUXURY | Via BENEDETTO CAIROLI 99 | | |
| Bed and Breakfast | Casa D'Anna | Via Cristallini 138 | 80137 | |
| Bed and Breakfast | IL LAPILLO DI IOVINE GIOVANNI | Via FRANCESCO SAVERIO CORRERA 189 | | |
| Bed and Breakfast | O' PAESE E MASANIELLO | Corso Garibaldi 62 | 80100 | |
| Bed and Breakfast | TERRA MIA | Via Salvator Rosa 63 | | |
| Bed and Breakfast | IL PORTICO | Via S. Maria in portico 17 | 80122 | |
| Affittacamere | FUNIKULI FUNIKULA | Corso Umberto I 329 | | |
| Casa per ferie | RICOMINCIO DA QUI | Via Foria 177 | | |
| Casa o Appartamento per Vacanze | MERGELLINA SWEET HOME SUB 138 | Piazza ERITREA 3 | | |
| Bed and Breakfast | CASA CUPIELLO | Via TOMMASO DE AMICIS 50 | | |
| Bed and Breakfast | BORSA 22 | Piazza Giovanni Bovio 22 | | |
| Bed and Breakfast | ZIA MARIA HOME | Piazza San Gaetano 322 | 80138 | |
| Affittacamere | LOCANDA MEDITERRANEA | Via Duomo 348 | 80133 | |
| Bed and Breakfast | CASA MIA BOUTIQUE | Corso GARIBALDI 165 | | |
| Casa per ferie | DENZA | discesa Coroglio 9 | | |
| Bed and Breakfast | B&B DONNA ROSA | Via FERRI VECCHI 7 | | |
| Bed and Breakfast | IN GIRO PER NAPOLI | Via Foria 153 | | |
| Bed and Breakfast | BED & BREAKFAST MARGARITA NAPOLI | Via Giacomo Leopardi 66 | 80100 | |
| Affittacamere | CASA DI MARI | Vico Cinquesanti 52 | | |
| Bed and Breakfast | PIKA 48 | Via Giuseppe Pica 48 | 80142 | |
| Bed and Breakfast | B&B Palazzo Magnacavallo | Via Francesco Girardi 37 | 80134 | |
| Bed and Breakfast | DUOMOAPARTMENTS | Via DUOMO 64 | | |
| Affittacamere | NAPOLI ROOMS & SUITE SRL | Piazza Giovanni Bovio 14 | | |
| Casa o Appartamento per Vacanze | LAZZARELLA LOFT | Via Pavia 134 | | |
| Casa o Appartamento per Vacanze | DOMUS JESU | Via CHIAIA 100 | | |
| Casa o Appartamento per Vacanze | MERGELLINA SWEET HOME SUB 137 | Piazza ERITREA 3 | | |
| Affittacamere | BE ITALIAN FLAT BOVIO | Corso Umberto I 23 | | |
| Casa o Appartamento per Vacanze | VENITOZZI HOME | Vico 1 GAGLIARDI 10 | | |
| Bed and Breakfast | CALABRITTO SUITE | Via CALABRITTO 20 | 80134 | |
| Bed and Breakfast | I LOVE NAPLES | Via FIRENZE 54 | | |
| Bed and Breakfast | MONTESANTO B&B | Via MONTESANTO 56 | | |
| Bed and Breakfast | NAPOLI BED | Piazzetta Sedil Capuano 247 | 80139 | |
| Affittacamere | MARGHERITA | Via Milano 109 | 80142 | |
| Bed and Breakfast | NAPOLI ROYAL SUITE | Vico ZUROLI 41C | | |
| Bed and Breakfast | CARAFA DI MADDALONI | Via Maddaloni 6 | 80134 | |
| Bed and Breakfast | LA ROSA E IL PEPERONCINO | Via Michelangelo Schipa 66 | 80122 | |
| Bed and Breakfast | BED & BREAKFAST LE RONDINI | Via F.Petrarca 20 | 80100 | |
| Bed and Breakfast | ORSINI46 | Via GENERALE ORSINI 46 | 80132 | |
| Affittacamere | COLORI E NOTE | Via Amato Di Montecassino 11 | | |
| Affittacamere | LA BONOISE | Piazza garibaldi 39 | 80143 | |
| Casa o Appartamento per Vacanze | DIMORA CENTRALE | Via Pasquale Stanislao Mancini 13 | | |
| Casa o Appartamento per Vacanze | BELLA 'BRIANA | Vico CARMINIELLO AI MANNESI 5 | | |
| Affittacamere | MELROSE NAPOLI | Vico II QUERCIA 4 | | |
| Bed and Breakfast | IMMACOLATA | Piazza DELL'IMMACOLATA 4 | | |
| Bed and Breakfast | Palazzo Anticaglia | Via S.Paolo 44 | 80138 | |
| Affittacamere | A MISURA DUOMO ROOMS & APARTMENT | Via DUOMO 266 | | |
| Bed and Breakfast | MONTEOLIVETO BEB | Via Donnalbina 56 | | |
| Bed and Breakfast | D'Ambrosio Raffaelina | Via Materdei 14 | 80136 | |
| Affittacamere | FIORENTINI RESIDENCE SRL | Via dei Fiorentini 21 | | |
| Casa o Appartamento per Vacanze | CHIATAMONE 53 MONTECALVARIO | Via CHIATAMONE 53/C | | |
| Affittacamere | NAPOLILIVE | Via Guglielmo Melisurgo 4 | 80133 | |
| Bed and Breakfast | SYMPOSION B&B APART | Via DUOMO 236 | | |
| Affittacamere | MORRAS HOME | Via Scipione Bobbio 15 | | |
| Bed and Breakfast | Aminei Colors | Via Nicolardi 2 | 80131 | |
| Bed and Breakfast | L'ARIOSA | Via GIOVANNI MERLIANI 20 | | |
| Bed and Breakfast | Partenope Suite Rooms | Via Luigia Sanfelice 1 | 80127 | |
| Casa o Appartamento per Vacanze | CASA ANNAMARIA | Via Parco Carelli 49 | | |
| Casa o Appartamento per Vacanze | IL CAVALIERE DI TOLEDO DON FERDINANDO | Via Montecalvario | | |
| Bed and Breakfast | MARIA MARI | Vico San Nicola alla Carita' 5 | 80134 | |
| Casa o Appartamento per Vacanze | CASA CUORE NAPOLETANO | Via Dei Cimbri 23 | | |
| Bed and Breakfast | B&B LA STELLA DEI VENTI | Via POSILLIPO 382 | | |
| Bed and Breakfast | La Terrazza su Capri | Via Tito Livio 9 | 80123 | |
| Bed and Breakfast | I 4 ELEMENTI | Via San Tommaso d'Aquino 33 | 80133 | |
| Bed and Breakfast | CASA VALERIA | Via Michelangelo 48 | 80129 | |
| Bed and Breakfast | BED & BREAKFAST LA TERRAZZA | Corso Umberto I 190 | 80100 | |
| Bed and Breakfast | Bed and Breakfast Ventaglieri | Via Ventaglieri 20 | 80135 | |
| Bed and Breakfast | B&B LERY | Via FRANCESCO CILEA 64 | | |
| Casa o Appartamento per Vacanze | DOMUS LUCA (LUXURY APARTMENT) | Via DOMENICO DI GRAVINA | | |
| Bed and Breakfast | B&B EUFORIA | Via Foria 76 | | |
| Affittacamere | NAPOLI SWEET HOME - ARENACCIA | Via Arenaccia 116 | 80141 | |
| Bed and Breakfast | VILLINO MARIANNA | Via Giuseppe Bonito 24 | | |
| Affittacamere | MANZO ANNA | Via Genova 116 | | |
| Casa o Appartamento per Vacanze | FLAT CASA PATU' NAPOLI CENTRO | Via ATRI 33 | | |
| Affittacamere | LA DIMONA DI NETTUNO | Via Piedigrotta int. 13 57 | 80122 | |
| Bed and Breakfast | CASA PESADINA | Via Consolazione 10 | 80138 | |
| Affittacamere | DIMORA DELLE ARTI | Via Santa Maria di Costantinopoli 30 | | |
| Bed and Breakfast | B&B CAROLINA | Via Ottavio Caiazzo 4 | 80100 | |
| Bed and Breakfast | LA TERRAZZA | Corso Umberto I 190 | 80138 | |
| Bed and Breakfast | DE GASPERI 55 | Via De Gasperi 55 | 80133 | |
| Bed and Breakfast | LA COCCINELLA | Via Scipione Bobbio 13 | 80100 | |
| Casa o Appartamento per Vacanze | CASA MAURA | Via NARDONES 48 | | |
| Casa o Appartamento per Vacanze | via TOLEDO 413 OLD TOWN | Via Toledo 413 | | |
| Bed and Breakfast | MUSTO | Via DUOMO 205 | 80133 | |
| Affittacamere | ARTHOUSE | Via Ottavio Tupputi 9 | | |
| Bed and Breakfast | B&B A LIVELLA | Via PETRO COLLETTA 116 | | |
| Affittacamere | DUOMO RESIDENCE | Corso Umberto I 154 | | |
| Affittacamere | NAPOLI CENTRALE Srls Unipersonale | Piazza Garibaldi sc C 26 | 80142 | |
| Casa o Appartamento per Vacanze | CASA POCHET | Via DUOMO 305 | | |
| Affittacamere | NAPOLI GARIBALDI SQUARE | Piazza Garibaldi 3 | | |
| Affittacamere | DONNA LENA | Piazza GIOVANNI BOVIO 22 | 80122 | |
| Bed and Breakfast | CHEZ CAROLINE | Via Salvator Rosa 339 | 80135 | |
| Bed and Breakfast | NAPLES | Via Medina 17 | | |
| Bed and Breakfast | LE STANZE DI ANGELA | Via Torino 30 | | |
| Casa o Appartamento per Vacanze | ALE & TIZY HOUSE DI ALESSANDRO PALMA | Vico | | |
| Casa o Appartamento per Vacanze | CIRILLO23 | Via D. CIRILLO 23 | | |
| Casa per ferie | NAPOLI APARTMENT | Piazza Garibaldi 26 | | |
| Casa o Appartamento per Vacanze | NINARELLA | Vico Piazza Nuova 4 | | |
| Bed and Breakfast | TOLEDO STATION NEXT STOP | Via Toledo 320 | 80100 | |
| Casa per ferie | UNA TERRAZZA SUL GOLFO | Via Michetti 12/D | | |
| Bed and Breakfast | B&B LA VEDUTA | SALITA Moiariello 13/O | 80131 | |
| Bed and Breakfast | B. e B. S.Chiara | Via S.Chiara 10 | 80134 | |
| Bed and Breakfast | STARNONE BED&BOOK | Vico S. SPIRITODI PALAZZO 34 | | |
| Bed and Breakfast | CASA MICHELANGELO | Viale Michelangelo 36 | 80129 | |
| Casa o Appartamento per Vacanze | LA COLLINA DI POSILLIPO | Via ALESSANDRO MANZONI 191 | | |
| Affittacamere | NAPOLI TREE | Via Chiatamone 6 | 80121 | |
| Bed and Breakfast | Boschetto | Via S.Antonio a Capodimonte 46 | 80131 | |
| Bed and Breakfast | IL CAMPANILE | Via San Gregorio Armeno 21 | 80138 | |
| Casa o Appartamento per Vacanze | CARIATI | Piazzetta Cariati 1 | | |
| Bed and Breakfast | AZALEA | Via FRANCESCO PARRILLO 25 | | |
| Bed and Breakfast | B&B ALLA CORTE DEL RE | Via Bosco di Capodimonte 101 | | |
| Affittacamere | SUN SUITE | Via Melisurgo 15 | 80133 | |
| Bed and Breakfast | CASA AZZURRA | Via Torrione San Martino 27 | | |
| Bed and Breakfast | B&B Della Corte | Via Sedile di Porto 55 | 80134 | |
| Bed and Breakfast | I VICERE' | Via Duomo 326 | 80133 | |
| Bed and Breakfast | Il Viaggio di Dante | Vico CARCERI SAN FELICE 13 | | |
| Affittacamere | GINEVRA 2 | Via Genova 116 | 80143 | |
| Bed and Breakfast | IL PORTONCINO | Via Bosco di Capodimonte 83 | 80131 | |
| Casa o Appartamento per Vacanze | DOMUS SANFELICE | Via Pisanelli 23 | | |
| Bed and Breakfast | NAPOLI CITY INN B&B | Via Roberto Bracco 45 | | |
| Bed and Breakfast | QUARTINO NAPOLETANO | Vico Sopramuro Ave Gratia Plena 18 | 80139 | |
| Agriturismo Test Indirizzo snc 80040 | | | | |
| Casa per ferie | DIONISO'S APARTMENTS | Via Depretis 145 | | |
| Bed and Breakfast | CINQUESTELLE | Via Bari 10 | 80143 | |
| Bed and Breakfast | B&B A CHIAIA | Via Ferdinando Palasciano 17 | | |
| Affittacamere | L'Arco e il Vico | Vico MELOFIOCCOLO 15 | | |
| Casa per ferie | CIELO MARE E TERRA | SALITA Cariati 12 | | |
| Affittacamere | CASA D' AMARE | Via Caracciolo 10 | | |
| Bed and Breakfast | AI BARETTI | Via GIOVANNI BAUSAN 32 | | |
| Bed and Breakfast | A&C SWEET HOME | Via PIETRO GIANNONE 28/A | | |
| Bed and Breakfast | A DUE PASSI | Vico GEROLOMINI 11 | | |
| Affittacamere | NAPOLICLASS LUXURY | Via Santa Brigida 79 | | |
| Bed and Breakfast | CENTRAL STATION HOUSE | Corso Arnaldo Lucci 130 | 80100 | |
| Bed and Breakfast | I quattro gattoni | Via S.Giacomo dei Capri 63/E | 80131 | |
| Bed and Breakfast | Suite 52 | Via Orazio 52 | | |
| Bed and Breakfast | Sfumature Partenopee | Via Donnalbina 11 | 80134 | |
| Bed and Breakfast | A CASA E PEPE' | Via Giovanni Brombeis 12 | 80135 | |
| Bed and Breakfast | TERRAZZA DUOMO | Via Duomo 242 | 80138 | |
| Bed and Breakfast | A CASA DI ARTURO S. Giovanni Maggiore Pignatelli 15 | 80134 | | |
| Bed and Breakfast | BELLA ELENA | Corso Amedeo di Savoia 224 | | |
| Bed and Breakfast | SUNRISE B&B | Vico Santo Spirito di Palazzo 54 | 80100 | |
| Bed and Breakfast | B&B TRINITA' DI RUSCIANO PASQUALE | Via Trinità degli Spagnoli 41 | | |
| Bed and Breakfast | LA Via DEI PRESEPI | Via S.Biagio dei Librai 46 | 80100 | |
| Bed and Breakfast | B&B AL CENTRO STORICO | Via Tribunali 138 | 80100 | |
| Affittacamere | MAGMA HOME | Via SAN GIUSEPPE DEI NUDI 18 | | |
| Affittacamere | CITY SOUL TYPICAL RESORT | Piazza Giulio Rodinò 18 | 80121 | |
| Affittacamere | Sweet Sleep Accomodation | Via A. Poerio 5°p. 14 | 80139 | |
| Bed and Breakfast | SANT'ALFONSO Bed and Breakfast | VIA DELLE ZITE 33 | | |
| Affittacamere | ARTEMISIA DOMUS | Via CARROZZIERI A MONTEOLIVETO 13 | | |
| Bed and Breakfast | MARANGE | Via Carlo Poerio 89 A | 80121 | |
| Bed and Breakfast | B&B MA.LI' | Via Toledo 429 | 80134 | |
| Affittacamere | DOMUS VINARIA | GRADONI DI CHIAIA 64 | 80100 | |
| Casa o Appartamento per Vacanze | LA CASA DEL SOLE A MERGELLINA | Viale Maria | | |
| Bed and Breakfast | B&B SERENA | Viale degli Astronauti 6 | 80131 | |
| Affittacamere | AFF. SPACCANAPOLI FUSCO UMBERTO | Via F.Girardi 37 | | |
| Bed and Breakfast | IL SORRISO B&B | Via Duomo 193 | 80138 | |
| Affittacamere | IMPARA L'ARTE | Via S.Antonio a Capodimonte 49 | 80131 | |
| Bed and Breakfast | NAPOLI CENTRALE DI FABIO E VERONICA | Corso Armando Lucci 149 | | |
| Casa o Appartamento per Vacanze | CASA DEL PORTO | Piazzetta MARINARI 4 | | |
| Casa per ferie | ITALIAPARTMENT | Vico Campanile ai SS. Apostoli 3A | | |
| Casa o Appartamento per Vacanze | 5 SIRENE | Piazza Giovanni Bovio 8 | | |
| Affittacamere | NAPOLI 900 | Via S. MARIA DI COSTANTINOPOLI 101 | | |
| Casa o Appartamento per Vacanze | LA CASA DI PAOLA LIVIA | Via TASSO 480 | | |
| Casa o Appartamento per Vacanze | CASA AL PORTO | Via NUOVA MARINA 24 | | |
| Affittacamere | SUITE NAPOLETANA | Piazza Bovio 8 | 80133 | |
| Bed and Breakfast | NAPOLIPIETRASANTA | LARGO Proprio d' Arianiello 12 | 80138 | |
| Bed and Breakfast | LA PEDAMENTINA | Via Pedamentina a S. Martino 33 | 80100 | |
| Bed and Breakfast | Alloggio di Luna | Piazza Garibaldi 26 | 80142 | |
| Bed and Breakfast | B. e B. felici Vacanze | Vico San Nicola alla Dogana | | |
| Bed and Breakfast | HALL INN B&B IN NAPLES | Via GUGLIELMO MELISURGO 15 | | |
| Bed and Breakfast | NAPOLI PLEBISCITO | Via Chiaia 216 | 80121 | |
| Bed and Breakfast | LA CASA DI FLORA | Via SAPIENZA 18 | | |
| Casa o Appartamento per Vacanze | HOLIDAY FLAT NAPOLI | Via GIOVANNI PORZIO 4 | | |
| Casa o Appartamento per Vacanze | DOMUS CLAUDIANA | Via Rione Sirignano 10 | | |
| Bed and Breakfast | WELCOME | Via Giacinto Gigante 1/B | 80136 | |
| Bed and Breakfast | DONNA ADELINA | Piazza Nolana 13 | 80142 | |
| Bed and Breakfast | B&B GALLERIA PRINCIPE DI NAPOLI | Via BROGGIA 3 | | |
| Affittacamere | LA GATTA CENERENTOLA ROOMS | Piazzetta MATERDEI 8 | | |
| Casa o Appartamento per Vacanze | LA CASA COLORI | Via GIOVANNI NICOTERA 32 | | |
| Casa o Appartamento per Vacanze | LA PETITE RIVIERA DI CHIAIA 23 | Via Riviera | | |
| Bed and Breakfast | PONTE DI CHIAIA | Via Chiaia 179 | 80121 | |
| Affittacamere | PALAZZO CHIATAMONE | Via Chiatamone 6 | 80121 | |
| Casa o Appartamento per Vacanze | CASA ENZUCCIO | Via Nuova Poggioreale 156 | | |
| Bed and Breakfast | COLORI A TOLEDO | Vico del Fico a S. Brigida 3 | | |
| Casa o Appartamento per Vacanze | NEAPOLIS APARTMENTS | Via Foria 57 | | |
| Bed and Breakfast | Casa Mia | Via Giacinto Gigante scala 1 interno 8 5 | | |
| Bed and Breakfast | PAURA | Via Enrico Cocchia 24 | | |
| Bed and Breakfast | B&B RESIDENCE SAN TEODORO | Via Riviera di Chiaia 281 | 80121 | |
| Bed and Breakfast | B&B PRESTIGE | Piazza Garibaldi 73 | | |
| Affittacamere | MAGMA HOME | Via S. Giuseppe dei Nudi 18 | 80135 | |
| Casa o Appartamento per Vacanze | Residence Confalone | Via Confalone 7 | 80136 | |
| Casa o Appartamento per Vacanze | HOME SWEET HOME | Viale ANTONIO GRAMSCI 11 | | |
| Casa o Appartamento per Vacanze | SALVATOR ROSA APARTMENT | Via Salvator Rosa 103 | | |
| Casa o Appartamento per Vacanze | A CASA DI BICE DI BEATRICE MESSINA | Via | | |
| Bed and Breakfast | B.&B. TOP FLOOR | Piazza Garibaldi 8°p.int.22 73 | 80142 | |
| Casa o Appartamento per Vacanze | MAISON DE LEOPARDI | Via GIACOMO LEOPARDI 142 | | |
| Bed and Breakfast | B&B POSILLIPO | Via Posillipo 410 | 80123 | |
| Bed and Breakfast | B&B International Garibaldi | Piazza Garibaldi 73 | 80142 | |
| Bed and Breakfast | AL PONTE | Via DEL GRANDE ARCHIVIO 32 | 80100 | |
| Bed and Breakfast | LE TERRAZZE | Via Morghen 70 | | |
| Affittacamere | ENEA | Via Bologna 14 | 80142 | |
| Casa o Appartamento per Vacanze | LA SIRENA DEL VESUVIO | Corso GIUSEPPE GARIBALDI 240 | | |
| Affittacamere | CASA HEZEL | Via GUGLIELMO APPULO 19 | | |
| Casa per ferie | APPARTAMENTO CAMERE NAPOLETANE | Via Atri 35 | | |
| Bed and Breakfast | BED&BREAKFAST CASA PATRIZIA | LARGO Santa Maria La Nova 19 | 80100 | |
| Bed and Breakfast | B&B ALLOGGIO MARIA | Vico dei Panettieri 2 int/1 | | |
| Affittacamere | DOLCE VITA ROOMS E BREAKFAST | Via Milano 109 | 80100 | |
| Bed and Breakfast | BELLEDONNE SUITE & GALLERY | Vico Belledonne a Chiaia 28 | 80100 | |
| Affittacamere | BE HOUSE S.a.S. di FRANCESCO AURIEMMA & CO. | Via Miroballo Al Pendino | | |
| Casa per ferie | VILLA ALBINA | Via Mattia Preti 6 | | |
| Affittacamere | HOTEL MEUBLE SANTA CHIARA SUITE | Via Santa Chiara 13 | 80134 | |
| Bed and Breakfast | LA DIMORA DELLA REGINA | Via S.Biagio dei Librai 39 | 80138 | |
| Affittacamere | CASA DEL RE | Corso Umberto I 311 | | |
| Bed and Breakfast | MUSEUM | Via S. Maria di Costantinopoli 130 | 80138 | |
| Bed and Breakfast | NAPOLI PORTA DI MARE B. e B. | Via dei Fiorentini | | |
| Bed and Breakfast | Stella Diana | Vico S.Luciella 20 | 80138 | |
| Casa o Appartamento per Vacanze | CASA VACANZE Via TOLEDO 51 | Via TOLEDO 51 | | |
| Affittacamere | LE DOME 35 | Via PIETRO COLLETTA 35 | 80131 | |
| Casa per ferie | CASA FLORA | Vico I Gravina 2 | | |
| Bed and Breakfast | I VICOLETTI | Vico s.Domenico Soriano 46 | 80135 | |
| Bed and Breakfast | PANORAMIC APARTMENT TARSIA | SALITA TARSIA 50 | | |
| Bed and Breakfast | IL GIARDINO SEGRETO | Via Foria 216 | 80139 | |
| Affittacamere | CUORE DI NAPOLI | Via Foria 76 | 80137 | |
| Bed and Breakfast | BOTANIC CHARM | Via FORIA 266 | | |
| Affittacamere | GARIBALDI 136 ROOMS | Piazza GARIBLADI 136 | | |
| Casa per ferie | TOLEDO LOFT | Via Toledo 156 | | |
| Bed and Breakfast | LA TELA BIANCA | Via Donnalbina 56 | 80134 | |
| Affittacamere | VICOLI DI NAPOLI DI CECERE MATTIA | Vico STORTO DI S. ANNA DI PALAZZO | | |
| Bed and Breakfast | NEL REGNO DI NAPOLI | Via Salvatore Tommasi 16 | | |
| Affittacamere | GRAMSCI SUITE | Viale ANTONIO GRAMSCI 22 | | |
| Casa o Appartamento per Vacanze | HOME SWEET HOME | Vico 2 CARMINIELLO AI MANNESI | | |
| Bed and Breakfast | NOVISSIMO MARCELLO | Vico Grande all'Annunziata 18 | 80100 | |
| Affittacamere | LANFIPE S.R.L. | Via Roma verso Scampia 320 | 80144 | |
| Casa o Appartamento per Vacanze | ROOFTOP ATTIC FONDACO MONTEPICCOLO 5 | | | |
| Bed and Breakfast | B&B LETTERARIO | Via MARIO DE CICCIO 9 | | |
| Bed and Breakfast | Sotto le Stelle ai Decumani | Piazzetta Sedil capuano 243 | 80139 | |
| Casa o Appartamento per Vacanze | HOME IN LOVE BALCONCINO SPACCANAPOLI | Via SAN BIAGIO | | |
| Affittacamere | LA CASA DELL'ARTE | Via ALFREDO ROCCO 13 | | |
| Bed and Breakfast | LA CASA DI FAFA | Via SILVIO SPAVENTA 9 | | |
| Bed and Breakfast | B&B PALAZZO FERRARA | Via FERRARA 17 | | |
| Affittacamere | NAPLES SUITE | Vico BASILIO PUOTI 11 | 80134 | |
| Affittacamere | NARDONES SUITE SRLS | Via NARDONES 35 | | |
| Casa o Appartamento per Vacanze | SAN MATTIA ROOFTOP ATTIC | Via San Mattia 57 | | |
| Bed and Breakfast | NANA' Bed and Breakfast | VIA GIOVANNI PALADINO 55 | | |
| Bed and Breakfast | CASA CHIARA | Corso Vitt. Emanuele 563 | 80134 | |
| Bed and Breakfast | SUITE DUOMO B&B | Via Duomo 242 | 80100 | |
| Bed and Breakfast | DORMIDAME' CENTRO calata San Marco 24 | 80133 | | |
| Bed and Breakfast | LA STUFA | Via del Chiostro 25 | 80134 | |
| Bed and Breakfast | Atmosfere del centro storico | Corso Umberto I 23 | 80138 | |
| Casa o Appartamento per Vacanze | PUGLIA'S HOUSE DI GILDA PUGLIA | Via PIGNA 240 | | |
| Affittacamere | NAPOLI SUITE | Corso Umberto I 284 | 80139 | |
| Bed and Breakfast | RUCK & MAUL B&B | Via TOLEDO 373 | | |
| Bed and Breakfast | | Vico GELSO | Vico Lungo Gelso 129 | |
| Casa o Appartamento per Vacanze | CASA MARTA | Via ANNIBALE CACCAVELLO 61 | | |
| Bed and Breakfast | B&B SAN GENNARO | Via Tribunali 138 | 80139 | |
| Bed and Breakfast | Duomo Station | Via Duomo 242 | 80138 | |
| Casa o Appartamento per Vacanze | CORE A CORE | Vico CANALE A TAVERNA PENTA | | |